June 6, 2019 |

8:00 am

to

1:00 pm
Fees
Member Fee: $250
Student Member Fee: $100
Non-Member Fee: $350
Location
General Engine Products
2000 Watkins Glen Drive
Franklin, Ohio
DESCRIPTION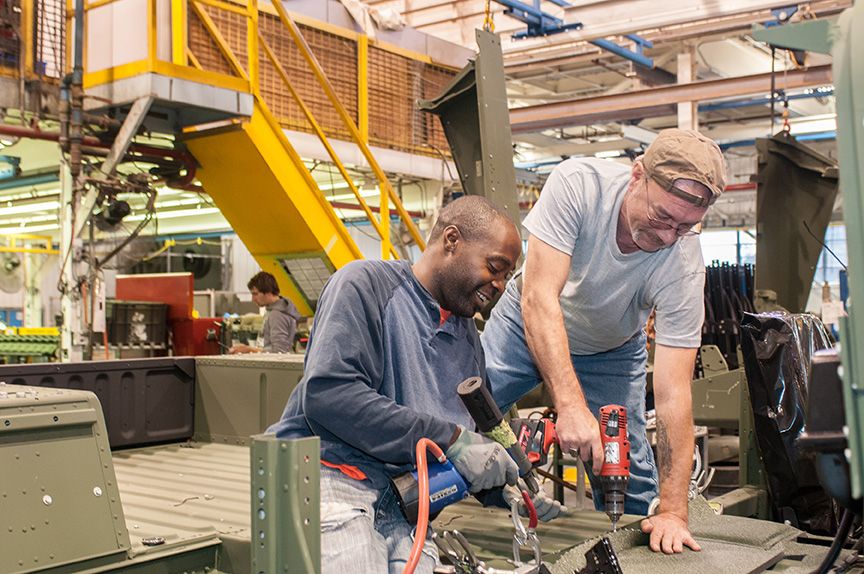 Tour the plant that powers the #1 tactical vehicle in the world, and learn how the use of lean tools has resulted in more than $1 million in savings in labor and overhead. AM General's Powertrain Assembly Plant was built in the late 1990s to produce the 6.5-liter diesel engine and later the 4-speed automatic transmission. Today, it manufactures HUMVEE power-train components. Processes at the plant are mature and capable, but a recent shift in focus to efficiency has required the facility to embrace lean and continuous improvement tools. The plant has initiated a new business operating system and used LSS tools to achieve significant efficiency and savings that would not have seemed possible without the new systems. This tour will also showcase KPI dashboards and the financial tracking of quick wins and larger improvements resulting from Lean Six Sigma tools.
HOST COMPANY
AM General LLC
AM General is a full service provider of mobility solutions for global defense and commercial markets. Know for the production, sales, training and support of the iconic HUMMER and HUMVEE vehicles around the world, the company also provides innovative powertrain solutions including those use for the high mobility multipurpose wheeled vehicles used by U.S. and allied forces around the world. Learn more at www.amgeneral.com.
AGENDA
8:00 a.m.   -   8:30 a.m.    Meet & greet (continental breakfast)
8:30 a.m.   -   9:30 a.m.    AM General overview
9:30 a.m.   - 10:00 a.m.    Operating systems / LSS overview
10:00 a.m. - 11:00 a.m.    Shop floor tour
11:00 a.m. - 12:00 p.m.    Lunch
12:00 p.m.                         Q&A / lessons learned
PRESENTER
David Whitby, Vice President, Military Operations, AM General LLC
David Whitby is responsible for military operations at AM General, including engine and transmission production in Ohio, tactical vehicle production in Indiana, and testing and training facilities also in Indiana. Previously, he served as plant manager for the commercial assembly plant, director of product reliability and director of commercial business development. He joined AM General as director of quality for the new state-of-the-art HUMMER H2 assembly plant in January, 2001. Previously, he served as Director of Manufacturing at Utilimaster Corporation, and held various production and quality leadership positions at Nissan Motor Manufacturing. He learned lean manufacturing first hand in Japan and has since applied it to Nissan's 5 million square-foot assembly plant in Tennessee, Nissan's supply base across the country, Utilimaster's operations in Indiana and AM General's operations in Indiana and Ohio. His industry experience dates back to 1985. Whitby has served on the AME Great Lakes Region Board of Directors since 2000. He holds engineering degrees from Virginia Tech and the University of Tennessee and an MBA from the University of Notre Dame. 

PARTICIPANT BENEFITS
Network with other lean practitioners and develop contacts for best practice sharing.
See lean in practice at the host company and ask about best practices and lessons learned.
Learn about engine and transmission assembly.
Hear about the lessons learned in lean system implementation.
WHO SHOULD ATTEND
This event will benefit continuous improvement practioners, from shop floor personnel to plant and operations executives.
OTHER REGISTRATION INFORMATION
You can become an AME member during the registration process for $150 per year and obtain the discounted AME member rate for this event. Your membership will also entitle you to a registration discount for all future AME conferences, seminars, workshops and webinars for one year. Additionally, you will receive a subscription to the award-winning Target magazine and much more.
Payment or purchase order must be received by the AME office five days prior to the event start date. If no payment or PO number is received, you will be asked to pay with a credit card or check at the event before entry.
Cancellation Policy: Enrollment fee less a $100 non-refundable registration charge will be refunded up to one week before the event. Substitutions may be made up to three days prior to the start of the workshop.
Notes: This event may be canceled by AME for any reason. AME is not responsible for incidental costs incurred by registrants. By registering for this meeting, I hereby acknowledge and agree that AME or its agents may take photographs of me during events and may use those photographs for AME's purposes, including but not limited to news and promotional purposes, without further compensation to me.