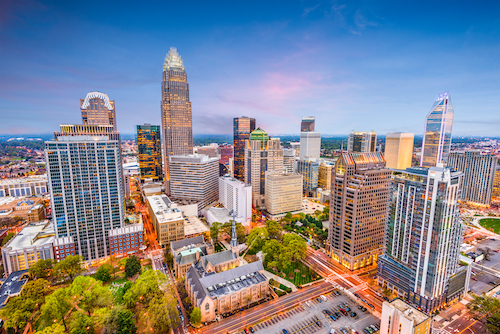 Cultivating tomorrow's lean leaders: Speeding toward excellence
If you are searching for a better way to lead, develop people and produce superior results, this lean summit will help put you over the top. What are you doing to lead the way in improving your organization's ability to engage your people and compete?
We're back and in person on May 1-3, 2023, in Charlotte, North Carolina for the return of the Southeastern Region annual lean summit! This year, the summit is all about leadership. Workshops and tours will focus on building skills and culture to enable current and future leaders to drive continuous improvement in their businesses.
Keynotes
Peg Pennington
Peg Pennington is the president of MoreSteam. She champions critical thinking and problem-solving as core competencies for all organizations. She's a team builder and has shared her passion for problem-solving over two decades of her career. Working as an educator and process improvement thought leader with MoreSteam's global clients, Pennington loves to share her enthusiasm to build a culture of innovation. Prior to joining MoreSteam's executive team, she was the executive director of the Center for Operational Excellence and an instructor in the Master of Business Operational Excellence ("MBOE") and MBA programs at Ohio State's Fisher College of Business. She holds a bachelor's degree in finance from Michigan State University and an MBA from the University of Dayton.
 
Gary Peterson
Gary Peterson is the executive vice president of supply chain and production at O.C. Tanner. Peterson has worked for O.C. Tanner for 32 years. He has held an impressively diverse set of jobs with the company, including manager of market research, manufacturing change facilitator (where he was instrumental in moving the operation from "batch" to lean, resulting in its winning the Shingo Prize), vice president of manufacturing, marketing vice president of award development, and vice president of research and professional services. O.C. Tanner received the AME Excellence Award in 2016. Peterson was inducted into the AME Hall of Fame in 2015. Today, he serves on the Executive Advisory Board for the Shingo Institute and is a Shingo Examiner. His experience with lean enterprise sends him around the globe helping others improve their operations. He holds an MBA and a bachelor's degree in statistics from Brigham Young University.
Tours
There is nothing like the sharing that a fellow practitioner can provide. Our attendees always tell us they benefit most from learning about lean from peers who are passionate about how they achieved success. Tour leading lean organizations in the greater Charlotte area and discover the best practices and lessons learned from their lean journeys. The 2023 summit will feature the following tour sites:
Roush Yates Manufacturing Solutions
PIT Training
Stewart-Haas/Haas F1
Consolidated Metco
A.O. Smith
Workshops
Learn how lean practical thinking can help transform problematic, complex processing challenges. Workshops are presented by world-renowned experts and are included in your AME Charlotte 2023 Lean Summit registration fee. 2023 workshops will cover topics such as:
Employee development
Leader standard work
Management systems
Capacity management
Lead time reduction
Level loading
Morale
Problem-solving
Quality
Value streams
Visual management
Kata
More
Venue

 Hilton Charlotte University Place
8629 J.M. Keynes Drive
Charlotte, North Carolina, 28262
Phone: 704-547-7444
Nestled alongside a picturesque lake in the thriving University area of Charlotte, the Hilton Charlotte University Place offers the perfect environment for both business and pleasure. The hotel's beautifully appointed guestrooms and award-winning restaurant are surrounded by distinctive specialty shops, vibrant bistros, lakeside jogging trails and lively entertainment.
AME room rate: $135 plus tax
Registration
AME MEMBER

$995


NON-MEMBER

$1,095
Bring a team to the AME Charlotte 2023 Lean Summit and accelerate your team's lean learning. Not only will your organization reap the benefits of an aligned summit experience, but teams of 5 or more save significantly on each registration.
5 or more attendees from the same company - Save $100 per registration
20 or more attendees from the same company - Save $150 per registration
40 or more attendees from the same company - Save $200 per registration
To obtain a discount code for large groups, please contact us at 224-232-5980 or email events@ame.org.  Discounts are per attendee and cannot be combined. Discounts will be applied to the corresponding full price ($995, AME members; $1,095, non-members).
SIGN UP TO RECEIVE NEWS AND UPDATES ABOUT THE AME CHARLOTTE 2023 LEAN SUMMIT!
Let us know how to reach you by filling out the form below, and we'll provide you with updates on speakers, tours, workshops, discounts and more.