December 1, 2021 |

11:00 am

to

12:00 pm
Eastern Time
DESCRIPTION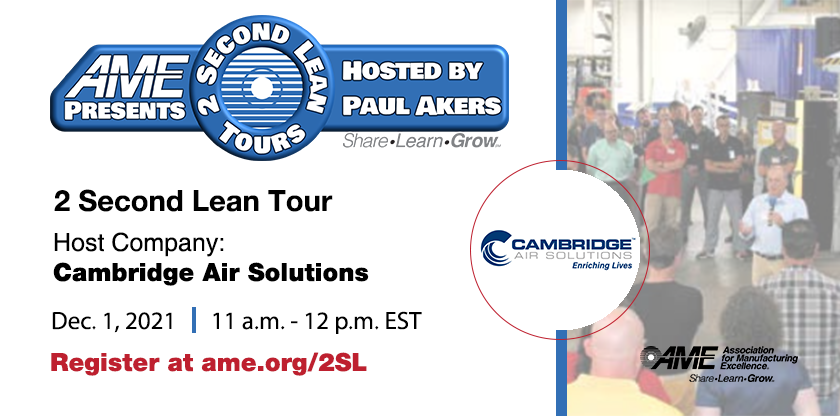 Join AME and host Paul Akers for the next in our highly rated 2 Second Lean Tour Series. We'll take a virtual visit to Cambridge Air Solutions in St. Louis.
The company is noted for helping manufacturing and warehousing leaders create healthy working environments for their people. You'll hear how they do it while implementing 2 Second lean principles in their own operations. 

This event is part of AME's 2 Second Lean Tour series hosted by Paul Akers, author of the book 2 Second Lean and owner of FastCap.
HOST COMPANY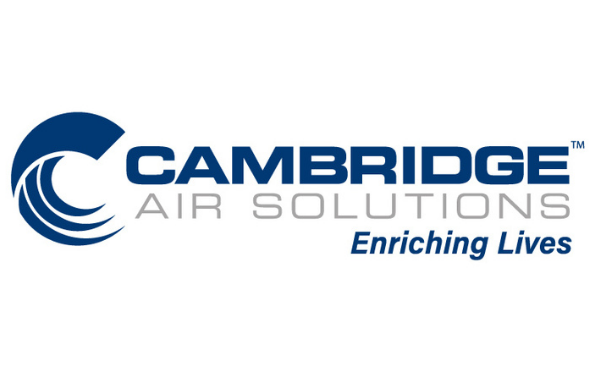 For more than 50 years, Cambridge Air Solutions has been committed to enriching the lives of its people, representatives, customers and suppliers through the design, manufacture and application of commercial and industrial space heating, ventilation (make-up air) and evaporative cooling products. The company helps manufacturers, distribution business owners and operators, facility managers, design engineers and mechanical contractors create better indoor working environments through even temperatures and improved Indoor Air Quality (IAQ) in warehouses, manufacturing facilities, sports facilities and other high-bay spaces. cambridgeair.com
AGENDA
11-11:05 a.m.       Welcome and company overview
11:05-11:35 a.m.  Tour
11:35-11:45 a.m.  Q&A and feedback poll
PARTICIPANT BENEFITS
Develop your people
Unleash your people's creativity
Inspire excellence
Gain ideas and tools that you can duplicate in your organization
WHO SHOULD ATTEND
Team members
Frontline leaders
Continuous improvement professionals
Operations leaders
Executives who influence the whole organization
VIRTUAL EVENT PARTICIPATION
To fully participate in this virtual event, a high-speed internet connection, speaker/headphones, microphone and webcam are needed. While not required, you will have a better online experience if you do not use wireless internet service. A wired/ethernet connection will have a stronger signal than wireless. Make sure you download the Zoom Client for Meetings desktop application for the best experience. Do not use the version available through your web browser as it has limited features. zoom.us/download
OTHER REGISTRATION INFORMATION
You can become an AME member during the registration process for $150 per year and obtain the discounted AME member rate for this event. Your membership will also entitle you to a registration discount for all future AME conferences, seminars, workshops and webinars for one year.
Payment or purchase order must be received by the AME office five days prior to the event start date. If no payment or PO number is received, you will be asked to pay with a credit card or check at the event before entry.
Cancellation Policy: For paid events, enrollment fee less a $100 non-refundable registration charge will be refunded up to one week before the event. Substitutions may be made up to three days prior to the start of the workshop.
Notes: This event may be canceled by AME for any reason. AME is not responsible for incidental costs incurred by registrants. By registering for this meeting, I hereby acknowledge and agree that AME or its agents may take photographs of me during events and may use those photographs for AME's purposes, including but not limited to news and promotional purposes, without further compensation to me.