April 29, 2020 |

9:00 am

to

5:00 pm
Fees
Student Member Fee: $150
Member Fee: $250
Non-Member Fee: $350
Location
Genentech
Building 35
350 DNA Way
South San Francisco, California
DESCRIPTION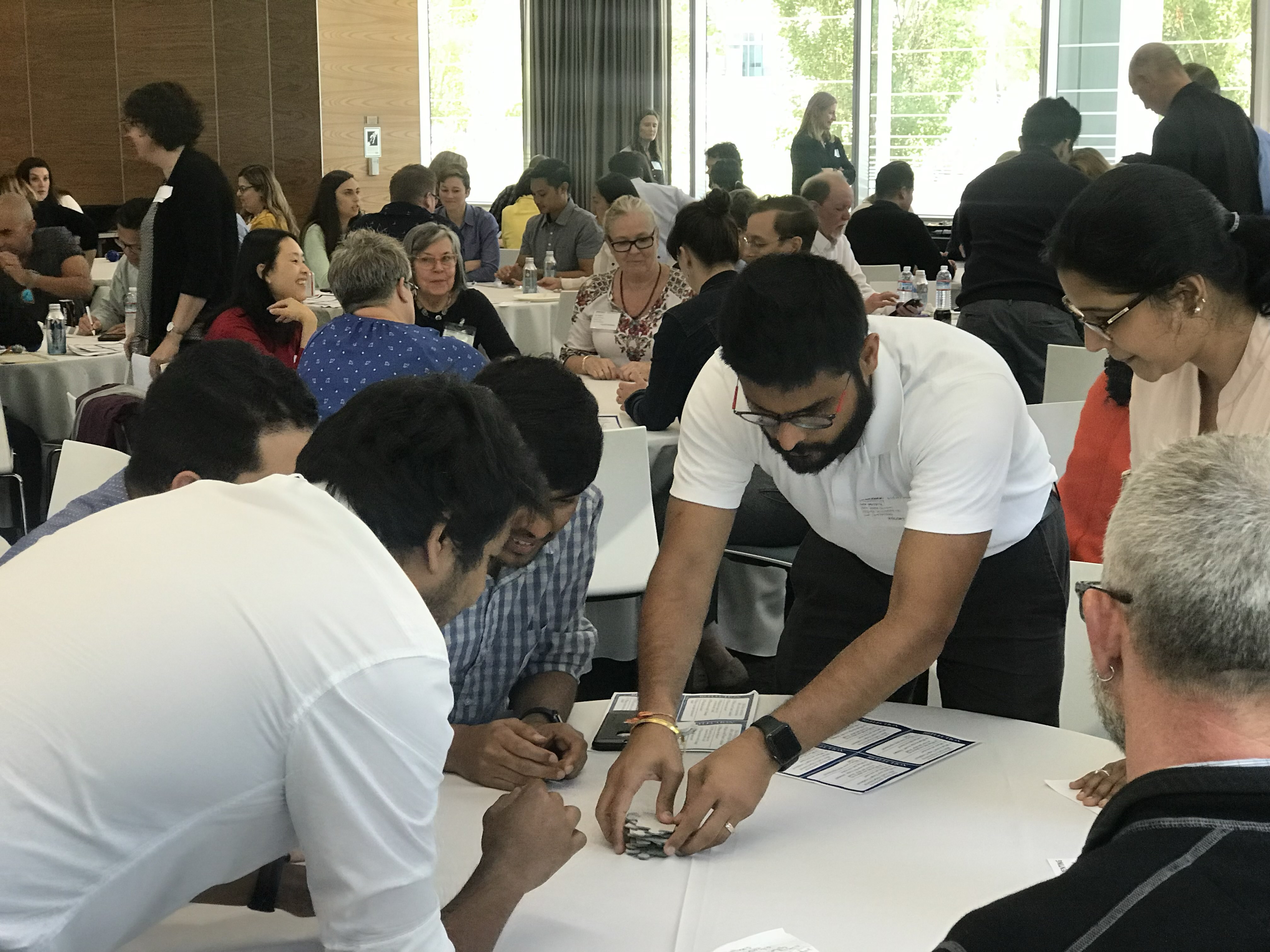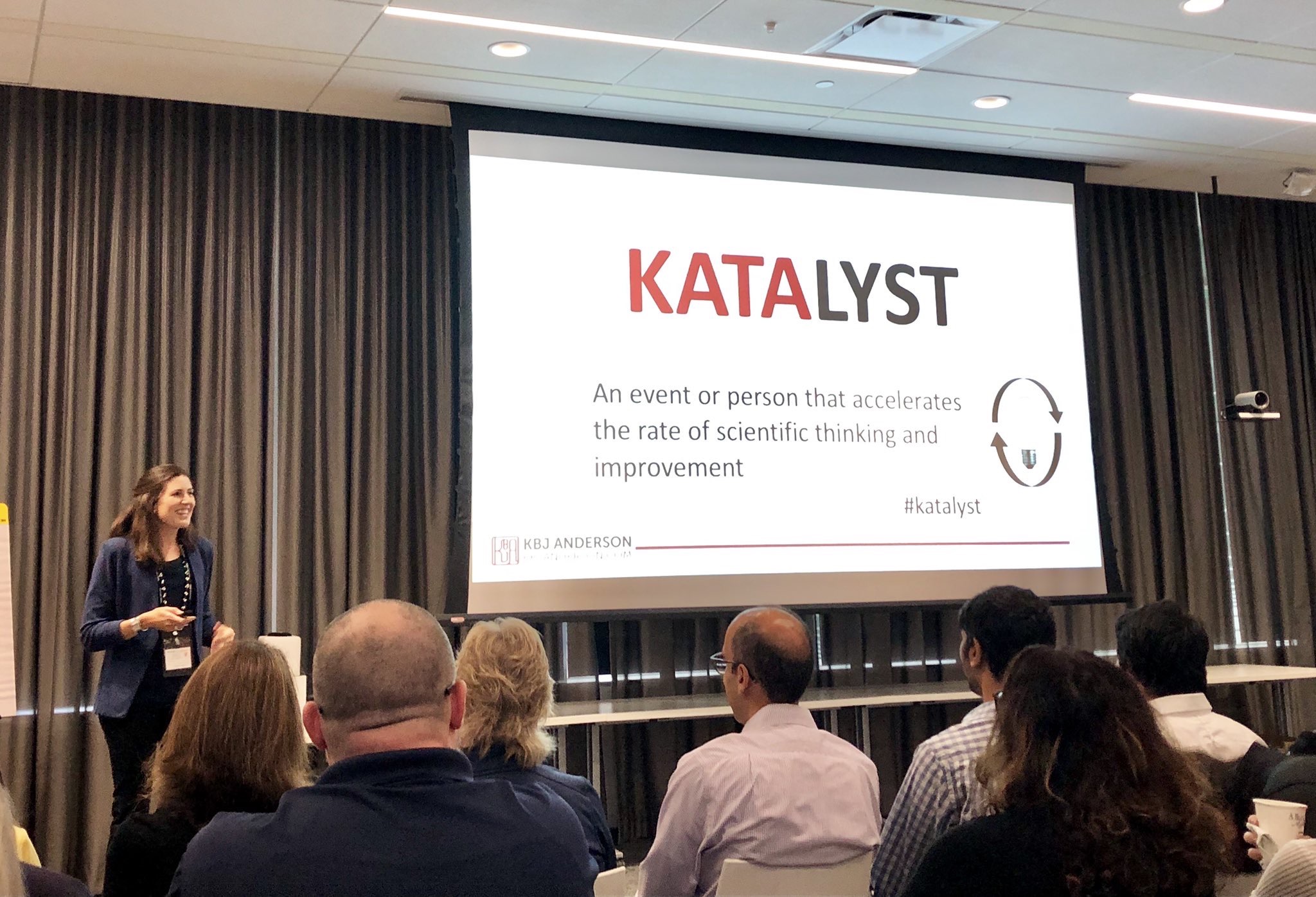 AME's San Francisco Bay Area Consortium is excited to offer the 2nd San Francisco Bay Area Kata Practitioner Day (KPD). This highly interactive learning session is a perfect opportunity for practitioners of every level — from beginner to expert and even those exploring kata for the first time — to share, learn and grow their practice in an informative forum. Join other "katalysts" in the Bay Area and be the agent for problem-solving thinking in your organization.
Kata is a pattern of problem-solving and coaching practices that supports the development of everyday habits, skill sets, and capabilities in people, aligned with and in support of achieving the long-term objectives of the organization. Mike Rother's 2009 book, "Toyota Kata," highlighted a fundamental pattern of scientific thinking and coaching that enables us to navigate complex change in organizations and communities. At its core, Rother's four-step starter Improvement Kata pattern helps us embrace the reality that today's solutions probably won't fit tomorrow's problems, and the path to a challenging goal can't be determined in advance.
Building on the feedback from the 1st KPD, this year we will be offering two tracks for the afternoon interactive session:
Track 1: Improvement Kata (IK) track for beginner to intermediate practitioners
Track 2: Coaching Kata (CK) dojo experience track for more advanced practitioners (six or more months experience as a coach using the coaching kata)
We will continue to have practioner presentations and demonstrations, as well as offer a panel discussion for interactive Q&A. We'll conclude the day with an "improvement storyboard gallery walk" at the end of the day where you can bring your kata storyboard to share and get feedback, as well as see real examples of how other practioners are actually applying IK/CK concepts in their organizations.
Share your own experiences with problem-solving thinking and coaching in your organization.
Learn by hearing firsthand from companies how they are developing the habit of problem-solving thinking across their organizations through practicing the improvement and coaching kata in the breakout sessions.
Grow through discussions, reflection, and setting your own next challenge and experiment.
LOOKING FOR A DEEPER EXPERIENCE?
Be part of the storyboard walk!
Showcase your experience and gain new insights from participants during our kata storyboard walk. Bring a kata storyboard or other visual example of an improvement experiment in progress to share as part of the afternoon event. 
Interested in participating in the afternoon storyboard walk? Tell us when you register or email Katie Anderson.
Join our kata practitioner panel.
Local practitioners who are interested in participating on the KPD panel discussion are encouraged to contact Katie Anderson.
HOST COMPANY
Genentech
Considered the founder of the industry, Genentech, now a member of the Roche Group, has been delivering on the promise of biotechnology for more than 40 years. Genentech is a leading biotechnology company that discovers, develops, manufactures and commercializes medicines to treat patients with serious or life-threatening medical conditions. It is among the world's leading biotech companies, with multiple products on the market and a promising development pipeline.
Genentech's offices are conveniently located near the San Francisco Airport for practitioners outside the Bay Area interested in attending. Parking is available nearby on the Genentech campus. A map will be provided in advance of the Kata Practitioner Day.
FACILITATORS
Michael Lombard
Michael Lombard is a managing director for the East Bay region of Kaiser Permanente. An experienced health care executive specializing in enterprise transformation, he has performed in challenging senior leadership roles including hospital CEO and national-level operational excellence director. Lombard is passionate about equipping people with the striving skills and mental resiliency needed for our communities to thrive.
Katie Anderson
Katie Anderson is the founder of KBJ Anderson Consulting, a boutique consulting practice focused on helping individuals and organizations gain clarity on their goals, deepen their problem solving and coaching skills, and continuously improve themselves and their organizations. She has more than 20 years of experience supporting change and improvement in organizations across a range of industries, including health care, government, manufacturing, biotech and others. She also holds faculty positions at the Lean Enterprise Institute and Catalysis and is the facilitator for the Association for Manufacturing Excellence's San Francisco Bay Area Consortium. In 2015, Anderson moved to Japan with her family for 18 months, where she became good friends with Isao Yoshino. Since then, Yoshino and Anderson have collaborated on several learning events, including leading executive learning trips in Japan. Anderson is an internationally recognized speaker. She holds a Bachelor of Arts degree in human biology with honors from Stanford University and a Master of Philosophy in public health (MPhil) from the University of Sydney (Australia).
Chris Dempsey
As head of South San Francisco Production Operational Excellence, Chris Dempsey leads a team of trainers, coaches and facilitators charged with improving the performance of one of the most complex manufacturing organizations within Genentech and Roche. Using deep experience in lean and six sigma methodologies, Dempsey's team drives strategic initiatives, coaches managers and senior leadership, and trains employees towards engraining continual process improvement capabilities across all levels of the organization.
AGENDA
8:30 - 9 am.               Registration, coffee, networking
9 - 9:30 a.m.              Welcome - Orientation to kata and interactive intros
9:30 - 10:15 a.m.       Keynote and Q&A - Dan Burton of Genentech
10:15 - 10:30 a.m.     Break
10:30 a.m. - 12 p.m.  Practitioner sessions, demonstration of Improvement Kata and Coaching Kata and panel discussion
12 p.m.                       Lunch
1 - 3 p.m.                   Breakout sessions with reflections
                                              Track 1: Improvement Kata (IK) interactive learning session
                                              Track 2: Coaching Kata (CK) dojo experience
3 - 3:15 p.m.              Break
3:15 - 3:45 p.m.         Reflections and discussion, wrap up
3:45 - 5 p.m.              Gallery walk of storyboards by companies, and reception/networking hour
Agenda is subject to change and is provided solely as a guide for the day's activities.
PARTICIPANT BENEFITS
Learn how to create habits that support problem-solving thinking by practicing the improvement and coaching kata routines
Experience the Kata in the Classroom activity
Connect and talk with colleagues to continue learning and sharing
Practice and develop your learning plan following the Kata Practitioner Day
WHO SHOULD ATTEND
Anyone leading complex change in their organization or community
Change management professionals
Senior executives and managers
Lean/CI practitioners
OTHER REGISTRATION INFORMATION
You can become an AME member during the registration process for $150 per year and obtain the discounted AME member rate for this event. Your membership will also entitle you to a registration discount for all future AME conferences, seminars, workshops and webinars for one year. Additionally, you will receive a subscription to the award-winning Target magazine and much more.
Payment or purchase order must be received by the AME office five days prior to the event start date. If no payment or PO number is received, you will be asked to pay with a credit card or check at the event before entry.
Cancellation Policy: Enrollment fee less a $150 non-refundable registration charge will be refunded up to one week before the event. Substitutions may be made up to three days prior to the start of the workshop.
Notes: This event may be cancelled by AME for any reason. AME is not responsible for incidental costs incurred by registrants. By registering for this meeting, I hereby acknowledge and agree that AME or its agents may take photographs of me during events and may use those photographs for AME's purposes, including but not limited to news and promotional purposes, without further compensation to me.