February 26, 2020 |

9:00 am

to

4:00 pm
Fees
AME Consortia Members: $325
AME Member: $425
Non-Member: $475
Location
UCSF Medical Center
530 Parnassus Ave.
Lange Room, 5th Floor in the Library
San Francisco, CA
DESCRIPTION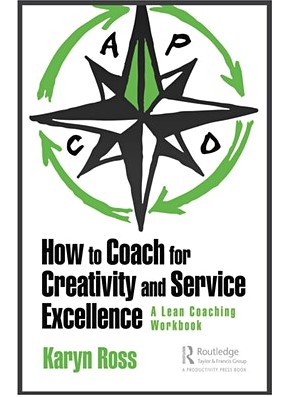 AME's San Francisco Bay Area Consortium Presents "How to Coach for Creativity and Service Excellence Workshop."
We learn by doing. This workshop is designed to give participants hands-on practice using the approach described in Karyn's book, How to Coach for Creativity and Service Excellence: A Lean Coaching Workbook. All exercises are designed both to develop the participant's confidence and to be used in the participant's organization following the workshop. This is a highly interactive session!
Objectives:
Through learning-by-doing, participants will practice the basics of:
Lean in Services: Creating Flow in Circular Value Stream
Creativity: Generating new and better ideas
Coaching: Challenging and nurturing people to turn ideas into better ways to work
Materials:
Each participantwill need to order a copy of How to Coach for Creativity and Service Excellence.
How to Coach for Creativity and Service Excellence: A Lean Coaching Workbook is a self-contained workbook, enabling the reader to complete twenty-one days of practical exercises and activities focused on creativity, lean and coaching (one set per day). The workbook will guide the reader through a structured, systematic, easy-to-understand, habit-building approach, and function as the reader's 'coach'. As you 'work' your way through the book, you will reclaim your creativity, learn Karyn's tried-and-true 15-minute a day coaching approach and adapt lean principles, practices and tools to your own particular organization.

AGENDA
Morning
Welcome & Introductions
Drawing it Out: Getting to Know Each Other AND Getting our Creative Juices Flowing!
Theory Thought Starters
Why we need to focus on Service Excellence
Why we need to focus on Creativity
Why Coaching is essential
Overview of Karyn's Daily 15-minute coaching approach
Break
Learn by Doing: Put it Into Practice
Review Target Problem(s)
Peak Service (Or Not) Analysis
Theory Thought Starter
Circular Value Streams: A Common Challenge to Flow in Services
What's the Problem (Equation)?
Target – Actual = Gap (Problem) Theory
Learn by Doing: Put it Into Practice
Use the Problem Equation to Define the Gap using Simulation Round 1's data
Dear Diary
Write a diary entry about the concepts presented so far
Lunch (provided)
Afternoon
What's Your Problem?
Introduction to Business Problem(s) to work on
Learn by Doing: Put it Into Practice
Create the Long List of "I Can't's"
Theory Thought Starter
The Elements of Creativity
Divergent Thinking
"And" vs "Either/Or" Thinking
Synthesis
Learn by Doing: Put it Into Practice
Divergent Thinking Exercise
Generate creative ideas to get closer to the Target
Break
Learn by Doing: Put It Into Practice
Choosing the first Next Step to complete a PDCA Cycle for
Work on Target Problem(s)
Go to workplace to observe Target Problem areas (TBD)
Complete as many Next Step PDCA Cycles as possible
Conduct Coaching Sessions between each Next Step
Time to Reflect
Share-back of work on Target Problems
Written Reflection
Group discussion of Reflections
HOST COMPANY
This event is hosted by AME Consortium member UCSF Healthcare.
PRESENTER
An experienced lean consultant, coach and practitioner, Karyn Ross is the coauthor, with Jeff Liker, of the Shingo Award-winning The Toyota Way to Service Excellence: Lean Transformation in Service Organizations. Focused specifically on services, Karyn has worked with small, medium and large organizations in sectors as diverse as insurance, financial services, HR, transportation and retail. Using her unique approach, Karyn teaches people how to combine creativity with lean practices to ensure that every customer receives exactly what they want, when they want it, right the first time with a personal, human touch.
A practicing artist, with an MFA in Sculpture, Karyn lives with her family in Naperville, Illinois.
Visit Karyn's website to learn more.