February 26, 2020 | 7:45 am
to
February 27, 2020 | 1:00 pm
Fees
Student Member Fee: $125
Non-Member Fee: $1,045
Member Fee: $895
Location
O.C. Tanner
930 S. State Street
Salt Lake City, Utah
DESCRIPTION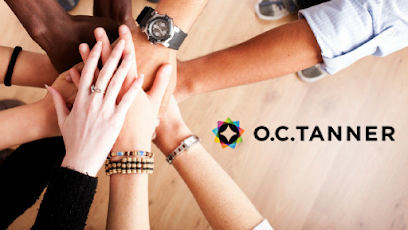 This two-day workshop and tour will explore O.C. Tanner's lean journey, policy deployment, order fulfillment systems, right-sized equipment, problem-solving, TWI, visual management, logistics and employee engagement. Attendees will see the results of one-piece flow made possible by a true north culture focused on respect for people and continuous improvement.
O.C. Tanner Recognition Company was founded in 1927 by Obert C. Tanner, a professor of philosophy, who saw the value of recognizing people with tangible, lasting memories in the form of emblematic rings, jewelry and awards. More than eighty years later, the core business is still employee recognition. In today's world, the need for employee recognition is even more compelling as companies and organizations seek to define the most effective solutions to attract, engage, motivate and retain employees. O.C. Tanner also teaches organizations how to use recognition as an accelerator to achieve business results. In pursuit of this mission, O.C. Tanner has created a lean enterprise grounded in one-piece flow, with concurrent improvements in quality, cost and delivery.
HOST COMPANY

O.C. Tanner has a culture that respects people and goes out of its way to recognize and celebrate team members' contributions to the organization. Its leaders embrace their responsibility to regularly coach, develop and encourage team members. O.C. Tanner helps organizations create great work environments by inspiring and appreciating great work. Thousands of clients globally use the company's cloud-based technology, tools, awards and education services to engage talent, increase performance, drive goals and create experiences that fuel the human spirit. The company was the official supplier of the 2002 Olympic Games medals and has received numerous awards, including the AME 2016 Excellence Award, the Shingo Prize, Ernst & Young Master Entrepreneur of the Year award and Incentive Magazine's Platinum Partner award.
This workshop will be presented by the executive team of O.C. Tanner, including operations, lean enterprise development, supply chain, production teams and others. It is focused on our ability to cost effectively produce one item at a time to customer order entry. As noted in the agenda, all of the processes necessary to achieve this objective will be addressed. Attendees will feel and get a sense of our continuous improvement culture and systems that support it. Learn more at www.octanner.com.
AGENDA
February 26
7:45 a.m.   -  8:00 a.m.   Registration
8:00 a.m.   -   9:30 a.m.  Introduction to O.C. tanner
9:30 a.m.   -   9:40 a.m.  Daily production balancing
9:40 a.m.   - 10:00 a.m.  Break
10:00 a.m. - 10:30 a.m.  Elimination of monuments & improving processes
10:30 a.m. - 11:30 a.m.  Production team tours
11:30 a.m. - 12:30 p.m.  Support team tours (supplies, housekeeping)
12:30 p.m. -   1:30 p.m.  Lunch
1:30 p.m.   -   2:30 p.m.  Strategy deployment system
2:30 p.m.   -   3:30 p.m.  Reduce training time & defects with TWI/ JI
3:30 p.m.   -   3:45 p.m.  Break
3:45 p.m.   -   4:45 p.m.  Company practices that foster continuous improvement–team culture
4:45 p.m.                         Evolution of pay system to support engagement
February 27
8:00 a.m.   -   9:00 a.m.   Improvements in warehouse & distribution
9:00 a.m.   - 10:15 a.m.   Break
10:15 a.m. - 10:30 a.m.   Gemba assessments: How well are the systems working?
10:30 a.m. - 11:15 a.m.   Attend team meetings
11:15 a.m. - 12:00 p.m.   Coaching to increase engagement & participation
12:00 p.m. -   1:00 p.m.   Lunch
12:30 p.m.                       Environmental improvements results – people, ideas, cost savings
PARTICIPANT BENEFITS
Experience a world-class true north culture
See a lean enterprise in action
See policy deployment driven manufacturing and order fulfillment system
Understand the criticality of a "people system of appreciation and recognition" to get business results
Understand the criticality of problem solving and employee engagement
Experience an award-winning and dynamic lean culture
WHO SHOULD ATTEND
Operations executives
Lean executives
Order fulfillment executives
Supply chain executives
Engineering managers
Quality system managers
Employee development managers
Logistics managers
Benchmarking personnel
OTHER REGISTRATION INFORMATION
You can become an AME member during the registration process for $150 per year and obtain the discounted AME member rate for this event. Your membership will also entitle you to a registration discount for all future AME conferences, seminars, workshops and webinars for one year. Additionally, you will receive a subscription to the award winning Target magazine and much more.
Payment or purchase order must be received by the AME office five days prior to the event start date. If no payment or PO number is received, you will be asked to pay with a credit card or check at the event before entry.
Cancellation Policy: Enrollment fee less a $100 non-refundable registration charge will be refunded up to one week before the event. Substitutions may be made up to three days prior to the start of the workshop.
Notes: This event may be cancelled by AME for any reason. AME is not responsible for incidental costs incurred by registrants. By registering for this meeting, I hereby acknowledge and agree that AME or its agents may take photographs of me during events and may use those photographs for AME's purposes, including but not limited to news and promotional purposes, without further compensation to me.