January 21, 2021 |

12:00 pm

to

1:00 pm
Central Time
DESCRIPTION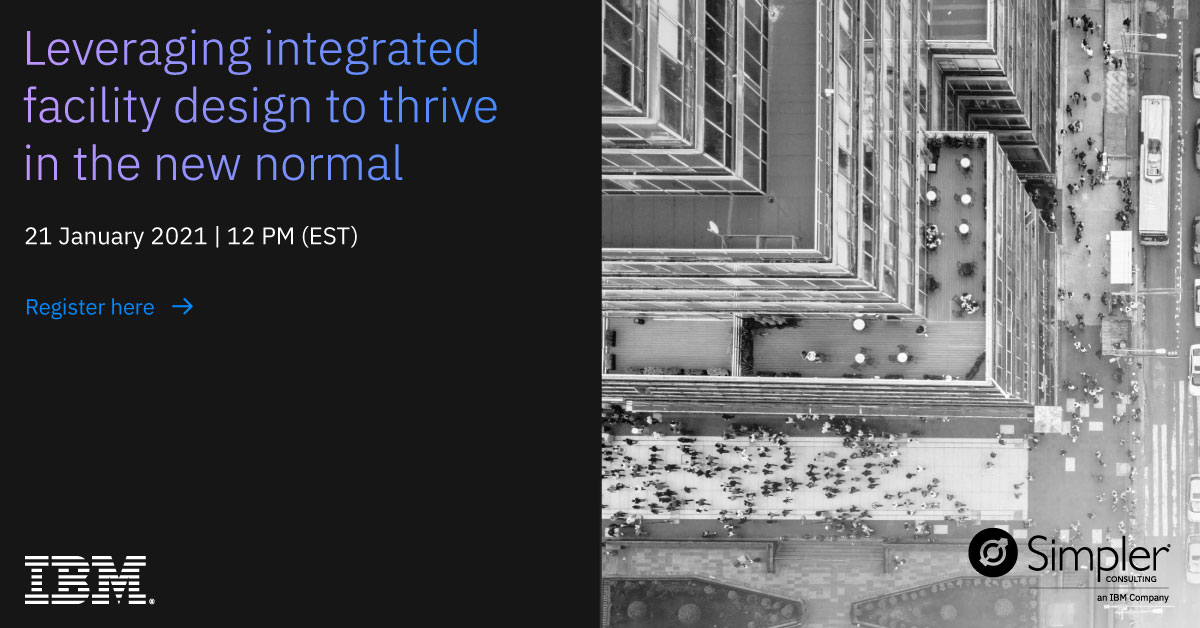 Recently nearly all industrial and health care settings have been disrupted. Whether your business continued operating or is reopening, you will need to rethink and rebuild to thrive in the post-COVID environment. In addition to maintaining or resuming operations to serve their customers and drive cash flow, organizations need to define and implement new work processes to thrive in the "new normal." Across the entire value chain, new customer and stakeholder needs exist thus new ways of working and using physical space are required. The Simpler Integrated Facility Design (IFD) leader will discuss perspectives on how processes and the physical spaces that support them must be rebalanced to safely resume operations. Beyond returning to baseline, businesses can identify and implement opportunities to raise the bar and gain competitive advantage in the post-COVID-19 environment.
This free webinar is sponsored and made possibly by Simpler Consulting, an IBM Company.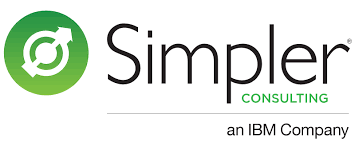 PRESENTER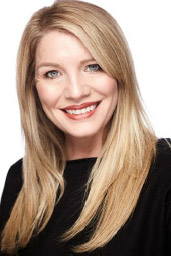 Shannon Allen
MBA, BSN, RN
Executive consultant, transformation & design
Shannon Allen has coached and led a significant breadth and depth of health care transformation activities for over 15 years. Key focus areas have included oncology service line, cardiology service line, emergency department, perioperative and inpatient hospital services. In this sector, she has consulted on strategy creation, organizational development and alignment, and execution. Allen practices in Simpler's Integrated Facility Design (IFD) practice, facilitating concurrent design of care models, management systems, facilities, technology and informatics for patient-centered care. She has also supported financial services, construction and manufacturing transformations.
Oncology: Allen has led an NCI-designated Comprehensive Cancer Center through enterprise transformation across seven care sites and inclusive of all activities from initial scheduling through survivorship. Highlights of this work include defining and implementing a disease-based multidisciplinary care model with strong research integration. She led the organization to implement strategy deployment, Simpler's Daily Management System (DMS), value stream improvement, and organizational development, coordinating these key underpinnings to drive long-term success.
Health Care Design and Construction: She has led the Integrated Facility Design (IFD) of health care building projects ranging from $500M to $4M USD. 
Allen has led and supported patient flow value stream activities in emergency departments, inpatient services, and perioperative services.
Her career began as an automotive design engineer for Honda R&D Americas. She learned to execute Honda's highly integrated product design process under the coaching of the company's Japanese technical experts. While in industry, Allen achieved Lean Six Sigma Black Belt and Design for Six Sigma certifications and became an embedded driver of excellence in production and product design.
Allen has also held performance improvement and leadership positions at OhioHealth, ProMedica Physician Group and Altarum Institute. She is experienced in clinical operations, health informatics, patient safety and quality, and has worked with multiple clinical specialties with emphasis on oncology, cardiology, family medicine and women's care.
She is a graduate of Ohio Northern University (BS), Ashland University (BSN), and the University of Michigan (MBA).
PARTICIPANT BENEFITS
• Leveraging Integrated Facility Design principles to achieve effective and safe flow within fixed space parameters
• Applying Integrated Facility Design methods and tools to reconfigure, remodel, or build space to support the new normal
• Rethinking how new capital projects must be scoped and designed to surmount the uncertainty that the future holds
VIRTUAL EVENT PARTICIPATION
To fully participate in this virtual event, a high-speed internet connection, speaker/headphones, microphone and webcam are needed. While not required, you will have a better online experience if you do not use wireless internet service. A wired/ethernet connection will have a stronger signal than wireless. Make sure you download the Zoom Client for Meetings desktop application for the best experience. Do not use the version available through your web browser as it has limited features. https://zoom.us/download
OTHER REGISTRATION INFORMATION
Notes: This event may be canceled by AME for any reason. AME is not responsible for incidental costs incurred by registrants. By registering for this meeting, I hereby acknowledge and agree that AME or its agents may take photographs of me during events and may use those photographs for AME's purposes, including but not limited to news and promotional purposes, without further compensation to me.