November 16, 2021 |

10:00 am

to

12:00 pm
Central Time
Fees
Non-Member Fee: $75
Member Fee: $50
DESCRIPTION
Although the "continuous improvement" pillar of lean is well-defined and has a host of tools, practices and principles that are commonly taught (5S, PDCA, poka-yoke, leveling, standard work, Go-See, etc.), the "respect for people" pillar is less well-defined.
There are countless classes and workshops offered in-person and online teaching people how to do continuous improvement. However, few exist to specifically help continuous improvement practitioners learn and practice how to show respect for people.
In lean, although we often say, "focus on the process, not on the people," treating people with kindness and respect is the key to ensuring the best possible processes and continuous improvement.
Objectives:
Provide participants with a clear definition of what respect for people really means (helping people do more than they ever thought they could and be more than they ever thought they could).
Introduce people to the basics of kind leadership and why kind leadership is necessary for respect for people.
Give people practical exercises and activities to use to lead with kindness so that they can begin showing respect for people immediately.
HOST COMPANY

The Love and Kindness Project Foundation is a grassroots movement spreading Kindness from person to person around the world and encourage people to think, speak and act more kindly by:
Giving out free love and kindness buttons for people to use to recognize kindness
Creating and providing lots of free kindness activities for people to download
Having monthly kindness challenges on social media 
Hosting, and supporting others in hosting, in-person and virtual kindness events
Fostering and funding creative projects that spread kindness in the world
Providing free coaching and micro-grants to people to create their own kindness project
At the Love and Kindness Project Foundation, we believe that no project that creates more love and kindness in the world is too small! Every act of love and kindness counts! Kindness is free. Everyone, everywhere can become kinder. Practicing kindness every day makes us kinder and creates a better world for all. Every act of kindness, no matter how small, makes a huge difference!
PRESENTER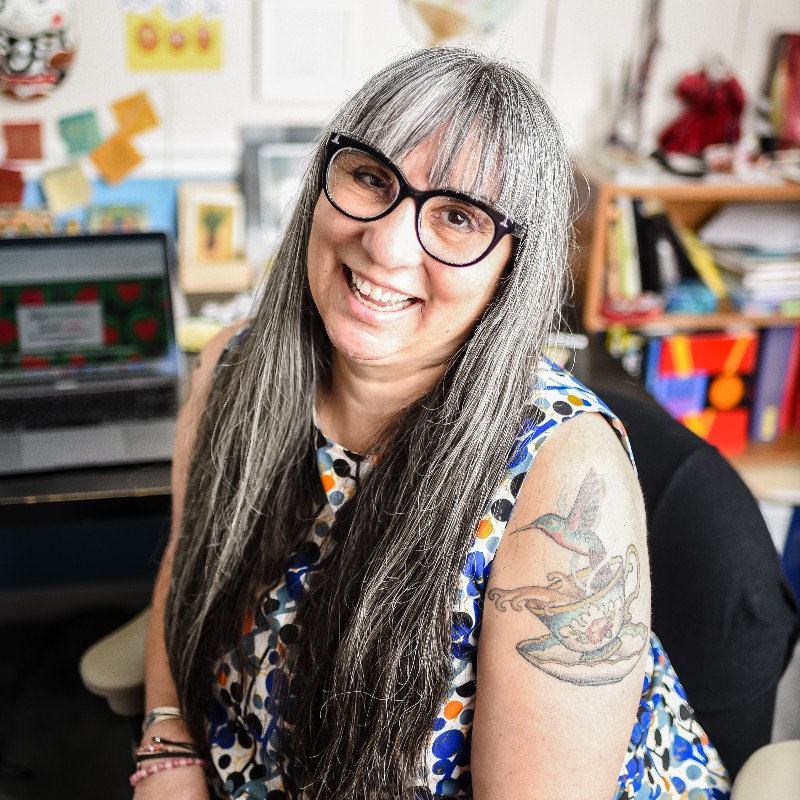 Karyn Ross is on a mission to help people create a better, kinder world. An artist, internationally acclaimed speaker, award-winning author, consultant, coach and practitioner, Ross travels the globe teaching people her unique system of combining creativity, continuous improvement and kindness to make a better world.
As well as being the owner of KRC (Karyn Ross Consulting), she is one of the founding mothers of Women in Lean — Our Table, a global group of more than seven hundred and fifty women lean practitioners. She is also founder and resident of the Love and Kindness Project Foundation, a registered public charity and The New School for Kind Leaders. Ross has created both of these initiatives to help people around the world think, speak, act and lead more kindly.
Ross's sixth book, The Kind Leader: A Practical Guide to Eliminating Fear, Creating Trust and Leading with Kindness is available for preorder. Her five other books are:
How to Coach for Creativity and Service Excellence: A Lean Coaching Workbook
the Shingo-award winning The Toyota Way to Service Excellence: Lean Transformation in Service Organizations
I'll Keep You Posted: 102 of My Reflections to Help You Start — and Deepen — Your Own Active Reflection Process
Think Kindly — Speak Kindly — Act Kindly: 366 Easy and Free Ideas You Can Use to Create a Kinder World…Starting Today
Big Karma and Little Kosmo Help Each Other
Proceeds from her books fund The Love and Kindness Project Foundation. When not traveling, Ross spends time designing and sewing her own clothes! Follow her on LinkedIn for a daily inspirational post about creativity, kindness and/or continuous improvement.
AGENDA
Hour 1:
Introductions and expectations
Theory: The connection between respect for people, kindness and leadership
     o Definitions:
            Respect for people, kindness, leadership
            Vicious cycle of fear, virtuous circle of trust
     o Activity:
            Self-assessment of personal and organizational current state

Hour 2:
Practicing three of the key kind leader behaviors
     o Think kindly: always assume positive intent and that people are doing their best
            Practice activity: making your assumptions visible — and then changing them!
     o Speak kindly: choosing and using kind words encourages people to learn and grow
            Practice activity: eliminating unkind words and replacing them with kind ones!
     o Act kindly: checking in with people creates trust…checking on people creates fear
           Practice activity:creating questions to check in with people
PARTICIPANT BENEFITS
By the end of the workshop, participants will have practiced one each of the three key kind leader behaviors:
Think kindly: assume positive intent
Speak kindly: choose and use your words kindly
Act kindly: check in with people, not on them
WHO SHOULD ATTEND
All lean practitioners and establisher or emerging leaders who want to lead their teams with kindness.
VIRTUAL EVENT PARTICIPATION
To fully participate in this virtual event, a high-speed internet connection, speaker/headphones, microphone and webcam are needed. While not required, you will have a better online experience if you do not use wireless internet service. A wired/ethernet connection will have a stronger signal than wireless. Make sure you download the Zoom Client for Meetings desktop application for the best experience. Do not use the version available through your web browser as it has limited features. zoom.us/download
OTHER REGISTRATION INFORMATION
You can become an AME member during the registration process for $150 per year and obtain the discounted AME member rate for this event. Your membership will also entitle you to a registration discount for all future AME conferences, seminars, workshops and webinars for one year.
Payment or purchase order must be received by the AME office five days prior to the event start date. If no payment or PO number is received, you will be asked to pay with a credit card or check at the event before entry.
Cancellation Policy: For paid events, enrollment fee less a $100 non-refundable registration charge will be refunded up to one week before the event. Substitutions may be made up to three days prior to the start of the workshop.
Notes: This event may be canceled by AME for any reason. AME is not responsible for incidental costs incurred by registrants. By registering for this meeting, I hereby acknowledge and agree that AME or its agents may take photographs of me during events and may use those photographs for AME's purposes, including but not limited to news and promotional purposes, without further compensation to me.