August 5, 2020 |

9:00 am

to

11:30 am
Central Time
Fees
Member Fee: $200
Non-Member Fee: $250
DESCRIPTION
Learn how Menlo Innovations uses visual management tools like story mapping, planning games, and work authorization boards to ensure that daily tasks provide the most value to a project's long-term plan by focusing on project priorities.
While historically Menlo has found these tools work best on paper, the company has recently found ways to adapt its visual management processes to be 100 percent remote while maintaining the integrity, goals and values achieved with its paper-based system.
In this two-and-a-half-hour virtual event, you'll tour Menlo and see these visual management tools up close (including recent adaptations to support remote teams). You'll also learn to establish a road map for beginning a project and how to make meaningful course corrections to a project that support a long-term plan and avoid expensive scope creep that can lead to months of wasted efforts.
Whether you're a Jira or Microsoft project expert or have your own advanced Excel spreadsheet system, many project managers struggle to keep the train on the tracks when it comes to the tasks their teams are (or should be) working on daily. Join us for a thought-provoking project-planning journey from up in the clouds to down in the weeds and back again.
HOST COMPANY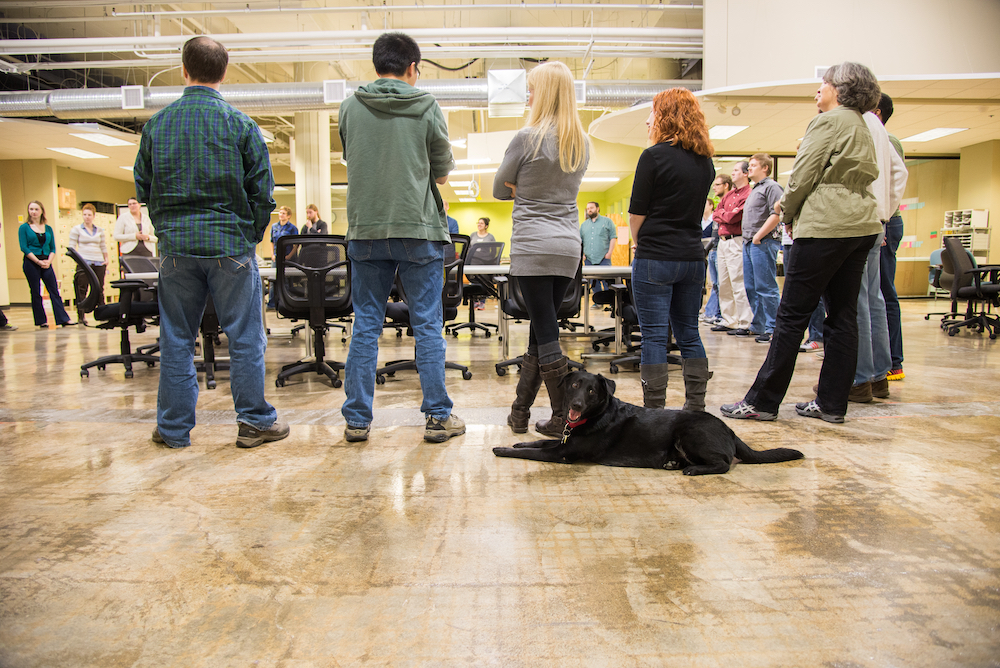 Menlo Innovations
Founded in 2001, Menlo Innovations designs and builds software that is widely adopted by target users producing a competitive advantage and better business results for its clients. Its team consists of 40-50 associates and consultants trained in its unique methodology working as a collaborative team in the Menlo Software Factory™ in Ann Arbor, Michigan.
In addition to developing world-class software solutions and consulting with organizations to transform culture and process, members of its team are recognized as leaders in their field and have been invited to speak at universities, professional organizations, local and national conferences, and at global congresses such as the Project Management Institute in Toronto, Baltimore, Panama, and Mexico.
Menlo's workspace has been featured in the Wall Street Journal and its company has been recognized for such distinctions as the Inc. 500 list for 2007, Wall Street Journal's Winning Small Workplaces, Michigan 50 Companies to Watch, Metropolitan Detroit's Best & Brightest Companies to Work For, Crain's Small Business Award, and the Alfred P. Sloan Award for Workplace Flexibility. Menlo president and CEO, Richard Sheridan, has written two books, "Joy, Inc." and "Chief Joy Officer," offering an inside look into how Menlo created its culture and how other organizations can follow Menlo's methods for a more passionate team and sustainable, profitable results. Learn more at menloinnovations.com.
PRESENTERS
Michelle Pomorski
Michelle Pomorski is a project manager, user experience designer, business analyst and problem solver. She began practicing the unique user-centered design processes at Menlo Innovations as a High-Tech Anthropologist® in 2007. In the last few years, she has transitioned to the role of project manager, where she enjoys partnering with clients using Menlo's visual management processes to help them steer their projects toward successful outcomes. She has recently obtained credentials as a certified Scrum Master and certified Scrum Product Owner. Pomorski has experience working on projects in a variety of domains ranging from e-commerce websites to healthcare.
With a background in education, Pomorski loves that she is constantly learning about different industries and people in the quest to design and deliver solutions that meet both user and business needs. Upon reading "The Design of Everyday Things" by Donald Norman, she has never looked at the world in the same way and has joined along in Menlo's mission to help "end human suffering as it relates to technology." Michelle has been a presenter at Great Lakes Software Excellence, Washtenaw Community College UIE, Agile and Beyond and delivered the keynote address at Westminster College Tools and Practices conference. She also teaches Menlo's Project Management: The Menlo Way and High-Tech Anthropology workshops on a regular basis.
Brittany Morton
Brittany Morton is a High-Tech Anthropologist® at Menlo Innovations. She is passionate about designing products and technology interfaces that will improve the lives of the people that use them. In addition to user experience design, Brittany is also passionate about sharing Menlo's processes and culture with the world.  Brittany holds a Bachelor of Science in Psychology from California Polytechnic State University, San Luis Obispo. When Brittany is not at Menlo she is a traveling professional dancer that teaches and competes internationally. She also owns and runs a successful Etsy shop and is currently remodeling her kitchen.
OTHER REGISTRATION INFORMATION
You can become an AME member during the registration process for $150 per year and obtain the discounted AME member rate for this event. Your membership will also entitle you to a registration discount for all future AME conferences, seminars, workshops and webinars for one year.
Payment or purchase order must be received by the AME office five days prior to the event start date. If no payment or PO number is received, you will be asked to pay with a credit card or check at the event before entry.
Cancellation Policy: Enrollment fee less a $100 non-refundable registration charge will be refunded up to one week before the event. Substitutions may be made up to three days prior to the start of the workshop.
Notes: This event may be canceled by AME for any reason. AME is not responsible for incidental costs incurred by registrants. By registering for this meeting, I hereby acknowledge and agree that AME or its agents may take photographs of me during events and may use those photographs for AME's purposes, including but not limited to news and promotional purposes, without further compensation to me.