Exhibit at AME San Diego 2018!
Reserve your space today! Position your organization face-to-face with leaders in the manufacturing industry to meet your company's goals and objectives. As an exhibitor, your company will gain exposure to many executives who are experts in lean continuous improvement and enterprise excellence. 
Check out the companies who will be exhibiting at AME San Diego 2018 here.
To reserve your booth, please complete a contract online or submit a PDF contract to dking@ame.org. If you have questions, contact Darlene King at dking@ame.org.
Online exhibitor contract  Exhibitor contract PDF  Floor plan  Exhibitor rules and regulations Past conference attendees Exhibitor instructions Exhibitor Service Manual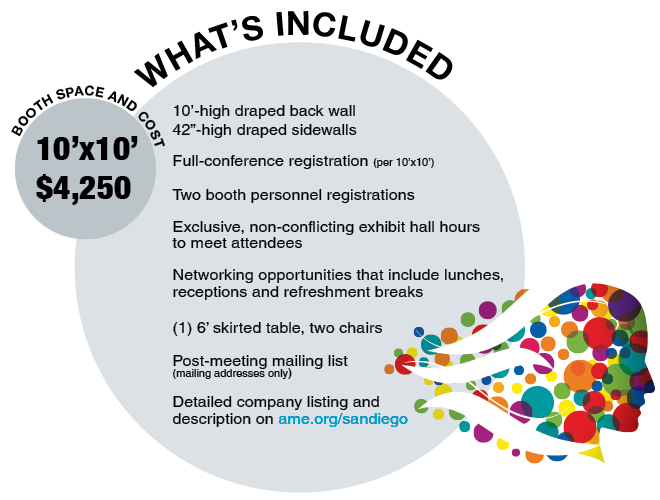 EXHIBIT HOURS
Monday, Oct. 29
3:00 pm – 6:00 pm
Tuesday, Oct. 30
7:00 am – 4:00 pm
Wednesday, Oct. 31
7:00 am – 4:00 pm
WHAT PAST EXHIBITORS ARE SAYING
"AME Boston 2017 was our first Association for Manufacturing Excellence conference as an exhibitor. Everything from the event format to drawing attendees to the exhibit hall was excellent and well worth the tradeshow investment. The AME event staff works with the exhibitors to make sure the experience is successful. They are committed to continuously improving the conference, making it an attractive and relevant event for attendees and exhibitors year after year."-TourGuide Solutions
PAST CONFERENCE IMAGE GALLERY