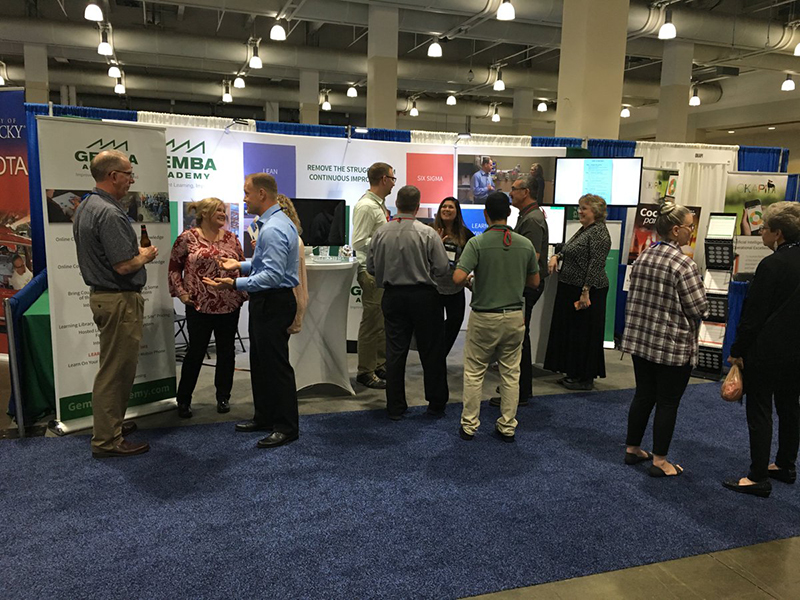 Position your organization to meet your company's goals by getting in front of continuous improvement leaders in manufacturing, health care and other industries. As an exhibitor, your company will gain exposure to decision-makers and practitioners who are dedicated to lean, continuous improvement and enterprise excellence.
Online Exhibitor Application Exhibitor Rules and Regulations AME Dallas 2022 Exhibitors
AME Dallas 2022 Exhibitor Floorplan
Booth Details
10'x10' Booth: $4,250 USD
Your booth fee includes:
10'-high draped back wall, 42"-high draped sidewalls
One complimentary full-conference registration (per 10'x10'), providing access to networking events, tours, practitioner presentations and keynote sessions, alongside conference attendees
Two exhibitor passes
Exclusive, non-conflicting exhibit hall hours to meet conference attendees
Networking opportunities that include lunches, receptions and refreshment breaks
One 6' skirted table and two chairs
Post-conference mailing list (mailing addresses only)
On-site lead retrieval participation, including attendee email addresses (for additional fee)
Detailed company listing and description on ame.org/Dallas
"We're exhibiting" graphic to use in your marketing, emails, website and social media
To reserve your booth, please submit the exhibitor application form or contact us at exhibit@ame.org.
Exhibit Hall Venue:
Sheraton Dallas Hotel
400 N. Olive St.
Dallas, TX
Exhibitor Schedule:
Exhibitor Move-In
Monday, Oct. 17             8 a.m. – 3 p.m.
Exhibitor Show Hours
Monday, Oct. 17             3 p.m. – 6:00 p.m.
Tuesday, Oct. 18            7 a.m. – 4:30 p.m.
Wednesday, Oct. 19       7 a.m. – 4:30 p.m.
Thursday, Oct. 20           7 a.m. – 10:45 a.m.
Exhibitor Move-Out
Thursday, Oct. 20          10:45 a.m. – 1:00 p.m.
(subject to change)