The Association for Manufacturing (AME) is pleased to announce TourGuide Solutions as the exclusive AME  provider of wireless tour system headsets. 
What does this mean to you? As a member of AME, you will have access to high quality, portable live-audio tour equipment and get discounted rates for purchase and rental tour guide systems!
25% off rental equipment
10% off your first purchase
TURN UP THE EXPERIENCE!
Move and be heard with a wireless tour system from TourGuide Solutions. Offering lightweight audio guide systems to overcome noise and acoustically challenging environments with crisp, clear sound performance.
Recommended systems built for manufacturing: Sennheiser 2020 Tour Guide System with superior sound quality for conducting tours in noisy environments and Williams Sound Digi-wave System for two-way, interactive tours.
Here's How it Works 
Fill out the form with your contact and event details. Or browse the website, and use promo code: AME17 on any form when you are ready
One of the extremely helpful TourGuide Solutions experts will work with you on scheduling and developing your quote
Not sure what you need? No problem, TourGuide Solutions can help with that too! Feel free to contact info@tourguidesolutions.com or (877) 204-0225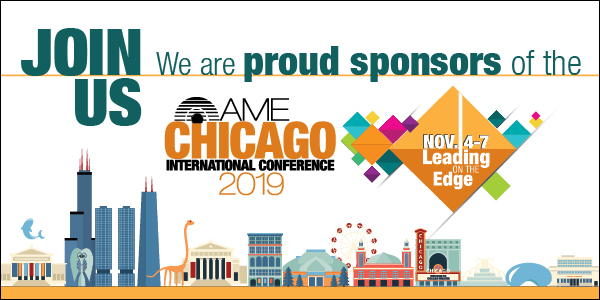 TourGuide Solutions is a proud sponsor of the AME International Conference in Chicago. Stop by to learn more!