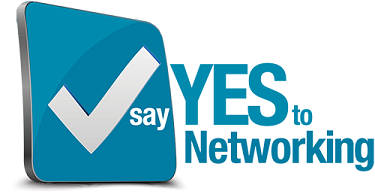 Say Yes to Networking In Cincinnati
The 2015 AME International Excellence Inside Conference in Cincinnati is the perfect place for attendees to share with and learn from their peers. Throughout the conference attendees will have the opportunity to enrich their experience by meeting and connecting with leaders in lean and continuous improvement at different events and activities.
Please check back to the Say Yes to Networking page as networking activities are added to the agenda.
Say Yes to Social Media
Social media is the perfect communications tool to network with your peers before, after and during the conference.
Follow AME on the following channels:

Twitter: Follow AME at @AMEConnect
Use hashtag: #AMECinci

LinkedIn: Join AME's LinkedIn Group

Facebook: Like AMEConnect
Networking Lounge
Located on the second floor near the registration area, the AME Networking Lounge is the place to share, learn and grow on social media. It's also a great place to network, generate ideas and ask any questions related to AME's social media channels. Stop by for a quick break between special interest or value stream sessions or a quick lesson on how to tweet. 
Say YES to Meeting Other Attendees
Opportunities to connect in Cincinnati include:
Club NuBee Orientation Evenings: 
Are you a NuBee to our hive of activity at an AME conference? Orientation evenings are offered at 5:00 p.m. Sunday and Monday, October 18 - 19, to help you get started on your learning journey. Follow the #ClubNuBee hashtag before and during the conference for the latest in Club NuBee activities. If you're new to our conference, please visit our new attendee information page.
Dine-Around (Additional cost):
Sunday and Monday evening at 6:00 p.m., join fellow attendees for dinner at a local Cincinnati restaurant. For more information (and to sign up), visit the AME 2015 Cincinnati Dine-Around page.
The AME Amazing Race (No additional cost):
Armed with a camera, you and your team become a member of the paparazzi for the day as you take on a fun team assignment to snap photos of key locations and your team. Explore interesting facts about Cincinnati and its culture. If you don't have a team already, we will create one for you or register as a single contestant. On Tuesday, October 20, 2015, The AME Networking Amazing Race will crown a champion. Will it be your team?  Dinner is not included with this event, however participants are encouraged to dine together at a local restaurant afterward.  To sign up for this event, visit The AME Amazing Race signup page and download the AME Amazing Race Guidelines.
The AME Dallas 2016 conference team will host a kickoff party for next year's conference, with food, prizes and entertainment on Wednesday evening, October 21, from 6:30 - 9:30 p.m. All Cincinnati conference attendees are invited to attend. There is no need to register for this party – simply show up ready to eat and have a good time!
AME Selfie Networking Contest
Grow your network in Cincinnati! Throughout the conference, take selfie pictures with people you network with and submit for an opportunity to win prizes! Visit the AME Selfie Networking Contest Rules page.
Learning Resource Center (Exhibits):
There is no better place to find the latest information about vendors and service providers in the manufacturing industry. Get your passport game piece stamped by participating exhibitors to be elegible to win prizes.