Topic(s)
Business operations
Management systems
Highlights
In this session, you will learn about:
The career journey of a woman, a lawyer and a leader and her discovery and application of continuous improvement in the delivery of legal/contracting services for health care companies.
Challenges faced by experienced female lawyers in the legal services industry.
How legal/contracting process improvements can support companies in meeting their business objectives and mitigating potential risks.
Practical approaches and lessons learned in the implementation of legal/contracting process improvement initiatives, including approval processes, contract review/execution, integration and vendor management.
Overview
Although women have represented almost half of all law school graduates for several decades, experienced female lawyers have not risen to leadership positions in the legal profession at the same rate as their male colleagues. The challenges of legal practice are reported to be compounded for women by pay and promotion disparities, discriminatory behavior and isolation.
Efficient legal/contracting processes are crucial to the success of any organization, but all too often these processes are complex, time-consuming, costly and mired with bureaucracy and red tape. The legal profession has been slow to embrace innovation and process improvement, leaving it behind other industries that have been transformed. Any inefficiencies in legal/contracting processes can have a ripple effect throughout the organization causing problems ranging from delays in the delivery of goods, equipment or services, the disruption of production schedules, and budget overages. On the other hand, when contracts or suppliers are not properly vetted, companies may be unnecessarily exposed to legal/compliance risks, reputation harm, or disruption by competitors.
By implementing process improvement methods in connection with legal/contracting processes, companies and their legal service providers can effectively manage legal spending, improve throughput by identifying and eliminating unnecessary steps or redundancies, and facilitate communication and collaboration between stakeholders while ensuring that deliverables are on time and within budget and mitigating organizational risks.
Company
Sheppard Mullin is a full-service law firm with approximately 1000 attorneys working in 16 offices worldwide. It doesn't just give lip service to client service. Every attorney and staff member has a plaque in his/her work space listing what they consider to be service essentials. It regularly gives "clients-first" awards to attorneys and staff who go the extra mile for their clients. Client service is part of its culture and permeates everything it does. www.sheppardmullin.com
Presenter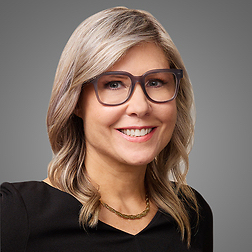 Amy Dilcher is special counsel in the corporate practice group in Sheppard Mullin's Washington D.C. office. Dilcher's practice focuses on transactional and regulatory matters, helping health care organizations achieve their strategic business initiatives while navigating complex regulatory issues and mitigating risks associated with health care regulations in the areas of strategic affiliations, mergers and acquisitions, hospital and physician transactions, managed care matters, and other contractual arrangements. She also advises on a wide range of operational, compliance, and regulatory issues.
She brings over 25 years of health industry experience with a clinical background as a medical oncology/hematology nurse and has served as the chief legal officer for a private equity-backed network of urology physician practices, the general counsel for a private equity-backed management services organization serving the largest network of interventional pain management physician practices, and the general counsel for the largest health care provider in western Maryland.