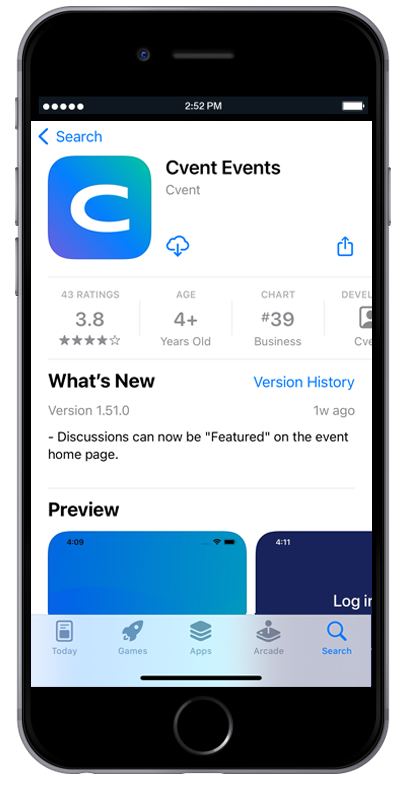 Downloading the app is simple, and a great way to enhance your in-person conference experience. Click the link above, or go to your Google Play Store or Apple App Store and search Cvent Events. Open the app and search AME Dallas 2022, and then click download. The event will open automatically. To log in, simply enter your first and last name and the email you used to register for the conference. AME will send a verification code to that email. All you have to do is check your inbox and enter the code. From there, you'll be able to:
Enroll in tours by adding them to your schedule. 
View the conference schedule (by day, time, category, speaker, etc.) and add the activities you want to attend to your schedule. If you registered for a workshop or reserved a tour or session on our conference website, it will show up on your schedule on the Attendee Hub. Though, please note that after you log in for the first time, it may take several minutes for your schedule to appear. If your schedule does not appear, please contact the AME Conference Team at conference@ame.org.
Search for speakers and bookmark the ones you're most interested in seeing.
Search a list of participants at #AMEDallas2022. To search the list of participants, you must be logged in. You can also send message and share contact information.
Connect, engage and network with other participants.
Search exhibitors by name and category and bookmark those you're interested in seeing.
Get information about the Accelerator Program and access details about team debrief meetings.
Play the in-app game!
If you are unable to log in, plese email appsupport@ame.org.
 
How to log in:
We value your opinion!
Give us your feedback about each workshop, presentation and tour you experience throughout the week. This feedback is valuable to conference organizers as they plan future events with a continuous improvement philosophy. Simply tap the session you wish to provide feedback on, tap survey, and complete the questions. Then hit submit!