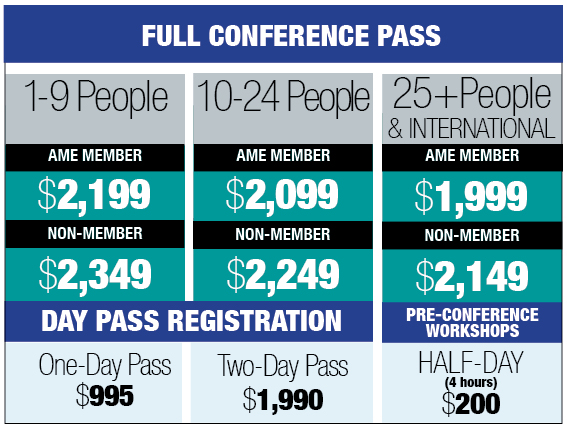 Terms: All multiple registrations are invoiced at the AME member price. An additional $150 will be applied to an individual registration if it is confirmed that the attendee is not a current AME member in good standing.
Cancellation policy: Registrations may be canceled by January 31, 2018, with a full refund. Cancellations received after that date until September 8, 2018 will be refunded less a $300 administrative fee. After September 8, 2018 no refunds will be issued. Cancellations must be in writing and emailed to: conference@ame.org, sent by confidential fax to: 224-232-5563, or mailed to the AME office.
Note: On behalf of our host plants, AME may have to preclude some attendees from participating in plant tours due to the proprietary nature of some information presented. Attendees may be asked to sign a non-disclosure agreement (NDA) before participating in a plant tour.