Wednesday, December 19, 2012
There must be something different about a company that sets stretch goals – 8 percent growth, rapid-fire releases of new products annually 8 percent market share. Is it the charismatic CEO Carlos Ghosn? Could it be the designs targeted for global markets? Is it supply chain management's depth of experience, like what we've seen in VP of Purchasing Rebecca Barker Vest, a 30-year automotive industry veteran, and Renae Carnahan, manager of purchasing strategy, 11 years with Nissan, prior to which she worked as a senior buyer with responsibility for instrumentation, cockpit modules, metal stampings and field service?
Or could it be the systems? Honda has its BP system, Toyota has TPS and Nissan has Monozukuri. I believe the profits tell the story — Nissan generates higher net profit margins than both its closest competitors, Honda and Toyota, although Toyota ranks No. 1 in size. I believe net profit margins — what remains after a company has paid for labor, materials, capital, etc. — indicate how well top management uses all its resources, not just purchased materials or shop floor labor, but all the expenses contained in the spend. A great system makes all the difference.
And there's one other feature that I think empowers Nissan's people to be more responsive and grounded, and that is:
English is the universal corporate language by which employees, especially during pressured situations like the tsunami/earthquake crisis, communicate directly, without time lost pushing requests and responses through Japanese-speaking "coordinators" up and down steep hierarchies.
An inevitable result of operating without "coordinators" or Japanese partners guarantees that local professionals learn the ropes themselves through hard experience. One Nissan exec describes this as working without the kind of safety net I observed at Honda.
When Nissan and Renault created a strategic partnership in 1999, the Japanese company's financials and outlook were at best, mixed. Weighed down by debt and limited product offerings, the company was up against the best competitors like Honda and Toyota, and later Hyundai. Nothing but big, big changes could save the company from the fate predicted years earlier by David Halberstam in The Reckoning, an over-capacity buyer's market. Along came new CEO Carlos Ghosn, and big, big changes began at Nissan, the latest being the 2011 release of his Power 88 Plan designed to raise profit margins and worldwide market share to 8 percent by fiscal year 2016.
To hit these very aggressive targets, Nissan's president edicted that the company would launch a new vehicle model about every six weeks, more than triple deliveries of Infiniti cars, and grow new business in emerging markets.
The markets loved it. "For the first time," said Ghosn, "Nissan is starting a plan on the offensive instead of reconstructing something or defending something," Ghosn said. "It's the first time. That's why we feel very good." ("Nissan Unveils Power 88 Plan," Nissan website: http://www.nissan-global.com/EN/REPORTS/2011/06/110627-02.html, June 27, 2011)
But as GM has shown us, there are miles to go between a CEO's dreams and plans, and delivering the goods. Nissan, however, is doing it, and the proof lies in its rising profit margins — operating profit margin of 6.3 percent.
There's only one way for a company to emerge from Nissan's troubles to a top position among the best four global producers, and that is by adopting superior operating processes. An onslaught of new vehicles produced inefficiently, or with the wrong options, won't get you 8 percent. Likewise, bad purchase prices or weak suppliers won't do it either. Strategic sourcing is key. We've been speaking with Nissan's top purchasing executive, VP Rebecca Barker Vest, a 20-plus year automotive veteran, who commends her people for digging deep and managing their way out of the Japanese earthquake and tsunami disaster without shutting down suppliers. Vest credits Nissan's, Monozukuri (mono = "product" + zukuri for "the process of making = Monozukuri "process for Making Products") mindset as providing the foundation for smart strategic sourcing and cost competitiveness, which enables Nissan's incredible manufacturing growth within the region.
Nissan credits Monozukuri as a huge contributor to its success and the organization as a whole is committed to this approach. Nissan utilizes the Monozukuri mindset to identify opportunities to remove waste and streamline processes in an effort to secure sustainable cost reductions. Monozukuri is like a big toolbox that contains a variety of proven strategies for successfully removing waste.
"Monozukuri," said Vest, "is a cross-functional effort between purchasing, quality, supply chain, manufacturing, logistics, product planning, design, and engineering which represents a collaborative exchange of improvement ideas between Nissan and suppliers. Monozukuri best practices are communicated regularly by Nissan to its suppliers, through town hall seminars, supplier site visits, and Nissan's annual supplier conference in an effort to illustrate the benefits of this cross-functional, collaborative approach to continuous improvement."
The Monozukuri framework includes pillars such as right-sizing, complexity reduction, materials challenge or "budomari" and THaNKS just to name a few.
What does this Monozukuri mindset mean for the balance between product design and costs? According to Nissan, this approach encourages sound decision-making. It's very important for example, in value engineering and right-sizing, to work the equation all the way through to ensure functionality and quality are not compromised in efforts to reduce costs.  Nissan is focused on enhancing their brand and ensuring their products meet and exceed the needs of their customers.
A guiding principle for the right-sizing pillar is to be sure that specifications, accessories and features actually create value for customers. It makes no sense, for example, to add a button on a chrome door handle if it does not increase value or convenience for the consumer.
Budomari, or "manufacturing yield efficiency," describes how Nissan bears down on waste by looking closely at scrap and at raw material usage. For example, when the skin blanks are cut for door trim, the cutting process can be arranged so that the amount of scrap material is minimized either by fitting the "puzzle pieces" together in a more efficient pattern, or by enabling recycling of the smaller pieces.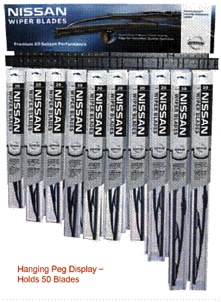 Nissan used complexity reduction to reduce the number of windshield wipers it supplied to consumers from 250 wipers to 12 universal wipers.
Another success story from Nissan's Monozukuri mindset was the complexity reduction of the windshield wipers. Complexity reduction focuses on the elimination of low- or no-volume part numbers for production and past model service parts. A cross-functional team tallied up Nissan's windshield wiper offerings and discovered a total of 250 wipers! Not only does this cause consumer confusion and retail chaos, but for Nissan, too many wiper styles added tooling, packaging, logistics, and overhead management costs. The answer? The team reduced the 250 wipers to 12 universal wipers, with improved standardization in packaging, saving money and simplifying choices for the consumer.
THaNKS is an acronym but it basically represents Nissan's collaborative improvement efforts at supplier's operations. In preparation for a THaNKS site visit, Nissan team members conduct pre-visits which include a walk through evaluation of existing processes with the supplier to identify opportunities for improvement. Together, Nissan and suppliers develop a strategy based on the pre-visit and determine the focus area for an intense four-day, hands-on kaizen activity designed to eliminate waste or streamline the existing process. Nissan's approach is designed to be non-disruptive of day-to-day activities. Supplier development experts prefer two or four day visits, with three follow-up visits, compared to the usual three-month stay.  Nissan encourages suppliers to continue similar efforts to identify waste and streamline processes by having their own Monozukuri organization in place on a continuous basis.
While Monozukuri is focused on removing waste and streamlining processes to secure sustainable cost reduction, Vest is quick to point out there is no trade off with quality. "Nissan's expectation is that suppliers will always provide top level quality parts; quality has to be the number one objective. Everything we do with Monozukuri, all our collaborative tools, the way we share information with our suppliers, the focus is always on quality. There is no tradeoff because our objective is to deliver top level quality products to our customers."
Named by Fortune magazine a "Pioneering Woman in Manufacturing," Patricia E. Moody, tricia@patriciaemoody.com, is a business visionary, author of 14 business books and hundreds of features. A manufacturing and supply management consultant for more than 30 years, her client list includes Fortune 100 companies as well as startups. She is the publisher of Blue Heron Journal, where she created the Made In The Americas (sm) and the Education for Innovation (sm) Series. Her next book about the future of manufacturing is called The Third Industrial Revolution.