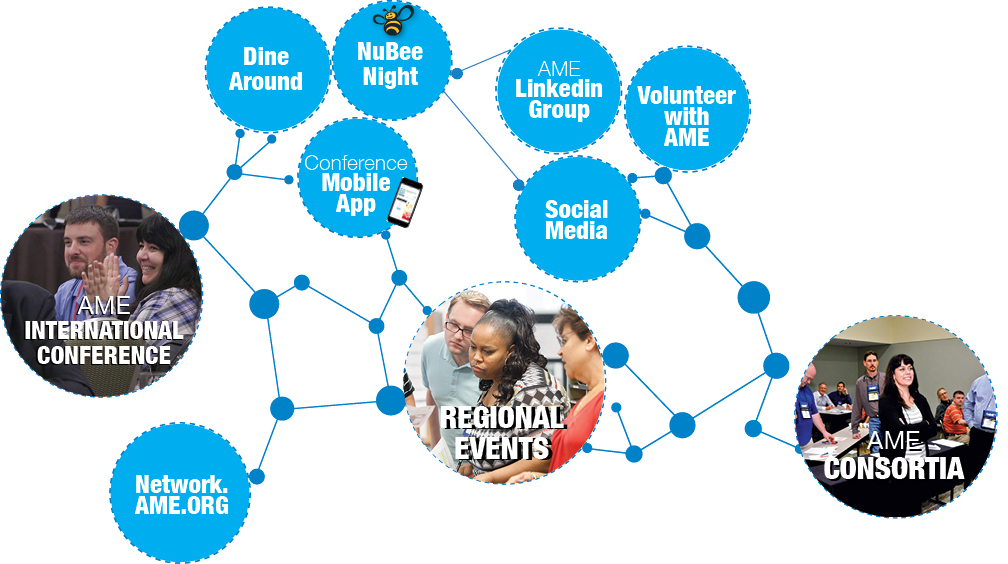 Whether you're networking in-person at an AME event such as our annual conference or a regional workshop or networking virtually on the network.ame.org or LinkedIn Group, you'll find the AME community is one that supports and encourages the opportunity to share, learn and grow. 
AME International Conference
The AME International Conference is the largest lean and continuous improvement conference in the world. With more than 1,500 attendees expected each year, it is the largest networking opportunity that AME offers. To get a better idea of what it's like to attend an AME conference, watch our AME Conference Experience video!
Dine Around - Join your fellow conference attendees for dinner to discuss professional topics that matter to you in a small, intimate setting. The AME Dine-Around offers a networking opportunity for each attendee to visit a local restaurant with AME directors in attendance. This allows you to benefit from the wisdom of diverse experiences and foster new relationships with industry colleagues. 
NuBee Night - Whether you are a seasoned conference attendee or it is your first time out, do not miss the opportunity to swarm the hive and BEE engaged in the activities planned. NuBee orientation night will give you helpful advice on how to make the most of your conference experience.
Conference mobile app 

–

Are you carrying too many business cards? Networking at an AME conference is as simple as typing someone's name into a search bar. Search a list of attendees at the conference by clicking on the attendee icon. You can send messages to other attendees and exchange information.
To learn more about our next international conference, visit ame.org/conference!
Regional Events
Attending a regional event is a great way to share, learn and grow with your local and national lean communities. Throughout the year, AME hosts regional events across the country. Learn and network with likeminded lean practitioners and develop contacts for benchmarking and best practice sharing. To find an event near you, click here!
AME Consortia
Share, learn and grow in a local lean learning network! AME Consortia are groups of local companies (20 +/-) that collaborate for broad, deep, accelerated lean-CI progress better, faster, and easier than they can do it alone. AME Consortia offer many ways for you to network, learn and engage with local lean practitioners:
Plant tours rotating through the member companies
Round-table discussions on a host company's hot issue
Special interest groups on a common hot issue (e.g. 5S, VSM, pull, SCM, etc.)
Auditor exchanges for deeper application of lean-CI practices
Consortium strategic plan for support of companies' lean-CI priorities
Shared-cost learning events
More
Join a local lean learning network today!
AME LinkedIn Group
With more than 24,000 members, the AME LinkedIn Group is AME's largest social media channel. Open to both members and non-members, the AME LinkedIn Group is a great place to ask a question, share articles or expand your network. 
Social Media
Follow @ameconnect on Twitter, Instagram and our LinkedIn company page: Use the hashtag #AME
Subscribe to our YouTube channel: TheAMEConnect
Like us on Facebook @AMEConnect
Volunteer with AME
AME offers a variety of ways for members to get involved, from short-term volunteer projects to board and committee service. Our volunteers develop their professional skills and connections, give back to the continuous improvement community and form lasting friendships as they share, learn and grow together. Become a volunteer today!