Friday, November 30, 2018
With unemployment at 17-year lows, finding qualified talent is among manufacturers' top priorities. As in other critical performance areas, comparing how your recruiting funnel measures up to others in your industry can reveal performance gaps that you need to close.
A recent research report from Jobvite Inc., a software and recruiting company based in San Mateo, California, provides benchmark data for each part of the recruiting funnel by company size (number of employees), by revenue, by source of applicants and hires, and by industry. It also offers benchmarks of companies listed on various business rankings, such as the Inc. 500 and Fortune 500. It is based on quantitative data and qualitative analysis of 2017data from Jobvite's database of more than 55 million job seekers and 17 million applications.
The report also features detailed information about each metric and how it has changed year-by-year from 2015 to 2017, and offers "Pro Tips"—actionable best practices companies should implement—for each stage of the recruitment process.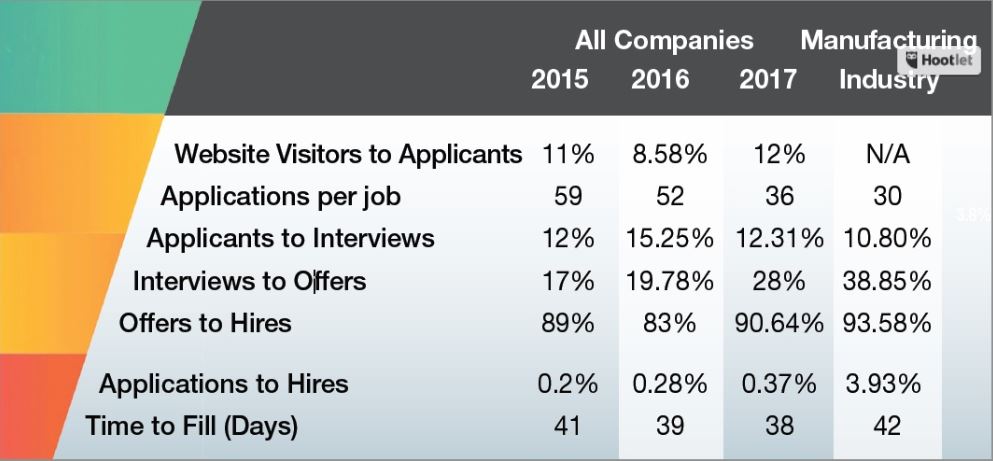 Definitions of each part of the funnel, along with the best practice that drives it, according to the report, are as follows:
Career Website Visitors: The number of unique visitors to your career website; driven by a favorable employer brand.
Applications: The number of applications received for a specific job opening; driven by an effortless application process on both desktop and mobile devices.
Interviews: The number of interviews conducted for each requisition; driven by consistent candidate engagement—at the right time, in a right way—that inspires a stress-free, streamlined and exceptional candidate experience.
Offers: The number of offers extended to candidates for a particular open position; driven by speed—the ability to move quickly to give candidates offers, sometimes before they even leave the office.
Hires: The candidates who have accepted your offer letter; driven by seamless onboarding.
Five critical takeaways
The report also offers the following five additional practices that will improve your recruiting success:
1. Create collaboration between hiring managers and recruiters: Before starting a search, the recruiter and hiring manager should meet, so the hiring manager can clarify specific details about the qualifications the candidate needs to have.
2. Take time to do a mini addressable market analysis: Again before launching a search, determine how many people with the specific characteristics are available for recruiting.
3. Look at productivity: Measure beyond the number of new hires. Consider: How many fully productive employees have you added? How many days from the hiring day does it take until the new hire is a fully productive employee?
4. Measure hiring manager success: Establish a benchmark to determine each hiring manager's "new hire churn," so they can share best practices for onboarding and the ramp-up process.
5. Determine candidate affinity: From the pool of potential candidates, try to identify who is already interested in your company. For example, through social media, you can easily determine who "follows" or "likes" the company, who shares relevant content or who has first-degree connections with the company or its employees.
Jobvite, which operates globally, provides a Software as a Service social recruiting platform, helping companies to advertise jobs and manage the recruitment process. To read the full report, go to: https://bit.ly/2Mkavz2.
This article originally appeared in the Fall 2018 issue of Target magazine. Patricia Panchak, a business journalist and public speaker, is Target's managing editor.