The Accelerator Program is designed for companies sending teams of 10+, 25+ or 50+ to the AME International Conference.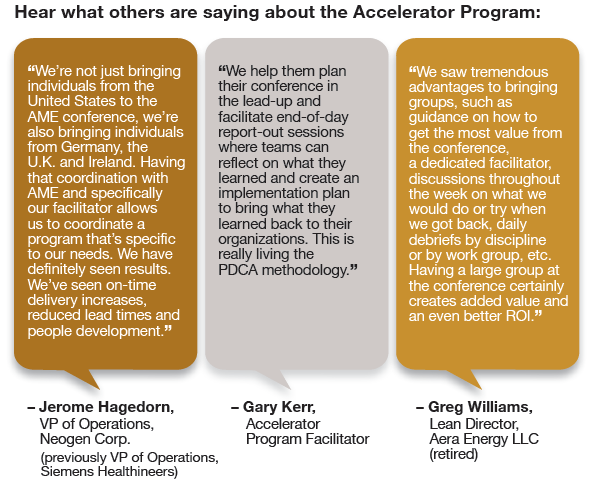 As your company progresses on its lean journey, you've certainly realized the importance of a strong collaborative effort from all levels of your organization. The more people from your team who share the AME conference experience, the more impact it will have on your company's goals and objectives. Send a team to the AME International Conference and experience dramatic impacts on your culture and journey.
For teams of 10+, 25+ or 50+, the Accelerator Program (AP) provides the perfect forum for maximizing an organization's efforts to improve their processes and positively impact their culture. For example: A large collaborative effort at the conference often sparks more animated daily debrief meetings that help identify hidden barriers that are holding companies back. Accelerator Program participants experience the power of lean and deliver greater customer value. AME offers numerous conference and yearly benefits available only to Accelerators.
Join us at AME Cleveland 2023 as an Accelerator Company
Accelerator Program benefits include:
Early registration for workshops and tours
Special access to keynotes and speakers, based upon availability
Assistance with building personalized conference itineraries, based upon request
Facilitation of specialized learning opportunities
Special access to daily debrief meetings
Facilitation and discussion of post-conference action plans
Interested in participating in the Accelerator Program? Prospective AP groups are reviewed by the Accelerator Program Chair.
Comprehensive Benefits Overview

:
 

Individuals & Teams of 2-9

 

Teams of 10-24

Teams of 25-49

Teams of 50+

Access to on-demand conference content for six months (slide deck downloads and recordings as permissible)

   

Recognition on conference website 

 

Early registration for workshops and tours

 

Personal tutorial of the AME conference app and online event guide (OEG)

 

Special assistance as needed for team members

 

Conference insights, itinerary recommendations for each team member, pre-conference assistance for meeting learning goals

 

Personalized onsite registration 

 

Reserved seating for keynote presentations

 

Recognition on looping slides 

 

Additional tour seats per person

 

 

Use of shared Zoom/meeting room for debrief sessions at the end of each day

 

 

 

Use of private Zoom/meeting room for debrief sessions at the end of each day

 

 

Facilitated daily debrief meeting on learning takeaways

 

 

Private session with a keynote speaker, shared with another AP group

 

 

Private session with a keynote speaker

 

 

 

Facilitator assistance to align conference offerings with business objectives

 

 

 

Dedicated Zoom room to use anytime throughout the conference

 

 

 
PAST ACCELERATOR PROGRAM PARTICIPANTS INCLUDE: