Topic(s)
People-centric leadership
Highlights
Join Alison Seward in a discussion on supporting employees through inclusive cultures. 
Overview
Attracting, retaining and engaging talent is a top priority for many manufacturers, with some projections that over 2 million manufacturing jobs could go unfilled by 2030. We must consider new approaches to attract talent to the manufacturing sector and fill this talent gap.
Creating a culture of belonging is one key to success where we must cultivate an environment for our differences to make a difference. In this session, we will challenge the false narrative that inclusion and diversity is HR's responsibility by highlighting a seven-part framework for success and exploring how everyone can engage to move this work forward. Recognizing employees' whole selves, creating an environment that supports employees' needs and providing adaptable resources to help employees face challenges are critical to understanding and respecting individuals' unique backgrounds, experiences and perspectives.
Company
GE Appliances is committed to leading the communities where its employees live and work. Its appliances are in 50 percent of all U.S. homes, and its business is committed to serving every family in the country. GE Appliances is a purpose-rooted and passion-driven organization that believes there is always a better way. The company manufactures and sells products under the Monogram®, Café™, GE Profile™, GE®, Haier and Hotpoint brands. Its products include refrigerators, freezers, cooking products, dishwashers, washers, dryers, air conditioners and water filtration systems. https://www.geappliancesco.com/
Presenter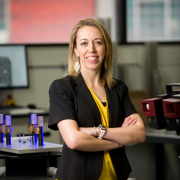 Alison Seward, executive director of manufacturing quality at GE Appliances, has business-wide responsibilities for all aspects of internal and external quality for all GE Appliances manufacturing sites and Mabe affiliates. Previous roles from her 22-year career with GE Appliances include leadership positions in product cost and design quality, cost-out execution, new products execution and design manager. Seward was also program senior director for an $80 million investment in Dishwasher that launched during the COVID-19 pandemic.
Seward began her career in 2001 as a co-op in supply chain and is an Operations Management Leadership Program graduate with experience in material control, plant operations, supplier quality and manufacturing quality. Alison's collaborative approach to leadership and her commitment to technical excellence and customer focus have helped lead to successful outcomes for the business and its customers.
Seward received GE's 2015 Edison Pioneer award, which honors mid-career technologists. Alison donated the $10,000 grant to her alma mater, the J.B. Speed School of Engineering at the University of Louisville, to create the Women in Engineering Leadership Conference.
Seward is the business champion for Today's Families in the Empower Women ERG, serves as champion for the Awareness Pillar of the Supply Chain Inclusion and Diversity Council and is an active supporter of the Black Excellence and Latin Roots ERGs. In 2023, Seward was recognized as a Women MAKE Awards Honoree by the Manufacturing Institute.