Highlights
This content will not be available on-demand.
Join Goodyear's Sam Landers and Norbert Majerus in a discussion on innovation principles and lean culture.
Overview
Innovative companies must create and sustain the right culture that does not conflict with a lean culture. Speaker Sam Landers will explain the main principles of innovation based on his extensive experience. He will also explain the behaviors necessary for creating a sustainable culture. This presentation will also focus on how Goodyear avoided innovation pitfalls that impacted other industry leaders. Speaker Norbert Majerus will help Landers put innovation into the context of operational excellence.
Company
Goodyear produces, innovates and services tires. Goodyear's mission began over 125 years ago in Akron, Ohio. The company has evolved to become one of the world's largest tire companies. A global leader in creating the future of mobility, Goodyear is constantly developing new and innovative products designed to harness the power of forward movement. goodyear.com
Presenters
Sam Landers retired from the Goodyear Tire and Rubber Company in 2010 as a research and development fellow, the highest non-management title in Goodyear's Research and Development Organization. During his 41-year career, Sam led teams in developing over 30 new products, including the award-winning Aquatred and the Assurance tire featuring TripleTred technology. Sam received over 60 patents and numerous awards, including recognition as a distinguished corporate inventor by Goodyear and the Intellectual Property Owners Association.
Landers spent his entire career in innovation at Goodyear in Akron, Ohio. He experienced the lean transformation of the Goodyear innovation center and learned how to keep innovation alive while running operations like a lean factory.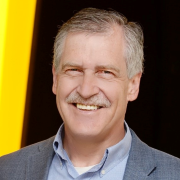 Beginning in 2005, Norbert Majerus implemented a principles-based lean product development process at the three global innovation centers of the Goodyear Tire and Rubber Company. For over a decade, Marjerus was Goodyear's lean champion in research and development.
In 2016, Norbert published his first book, "Lean-Driven Innovation," which received the Shingo Research Award. With Majerus' guidance, Goodyear's Research and Development Organization received the AME Excellence Award. In 2022, Norbert published his second book, "Winning Innovation."
Majerus has a master's degree in chemistry from the Universitaet des Saarlandes, Saarbruecken, Germany, and worked most of the disciplines in the Goodyear innovation centers in Luxembourg and Akron.
Majerus has taught workshops and spoken at conferences in the United States and other countries. Since retiring from Goodyear in 2017, he has shared his extensive lean expertise through Norbert Majerus Consulting and as an LPPDE board member.