Topic(s)
People-centric leadership
Highlights
In this practitioner presentation, discover early-stage examples of problem-solving for children and problem-solving curriculum for middle school students and teens.
Overview
Milwaukee Area Technical College's Alan Goodman had a dream of teaching lean concepts to children. Goodman's participation in Junior Achievement as a young professional inspired him to establish kata by building a camp called Lean: How to do Everything Better, where he teaches middle and high school students lean practices.
He has expanded his camp to youth-facing organizations, including City on a Hill, Milwaukee Academy of Science and Marquette University. Children are creative, effective, boundary-less, and willing to experiment and fail when approaching problems and solutions. Goodman's camp harnesses this energy and provides students with kata to build, practice and maintain this problem-solving mindset.
Company
Milwaukee Area Technical College is a public two-year vocational-technical college based in Milwaukee, Wisconsin. MATC offers day, evening and weekend classes at downtown Milwaukee, Oak Creek, West Allis and Mequon campuses. Enrollment is about 35,000 students. https://www.matc.edu/ 
Presenter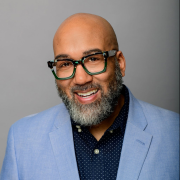 Alan Goodman is a believer in following your dreams, a professor at Milwaukee Area Technical College and the department chair for the Quality Engineering Program. He spent over twenty years in corporate America, becoming a certified Six Sigma Black Belt. His varied experience throughout his career includes rolling out a continuous improvement organization, implementing operational improvements for over 40 companies nationwide, leading a commercial dental and vision TPA business and running a credit union.
Goodman is also the founder and king of desserts for the award-winning business A Goodman's Desserts. He recently started A Goodman's Consulting, where he coaches small business owners on operational excellence. Goodman is an alum of Hampton University and Temple University, holding a B.S. and MBA in finance. He is also a life member of Kappa Alpha Psi Fraternity Incorporated and recently embarked on a new career path as a model and commercial actor.