Topic(s)
People-centric leadership
Highlights
This content will not be available on-demand.
Hear from Meg Brown on Cambridge Air Solutions' approach to people-centric leadership.
Overview
It is a difficult time to build engaged teams in a generation. With so many interests competing for attention, today's workforce wants to be seen and heard as individuals. Join Meg Brown and the Cambridge Air Solutions team as they explore the different models implemented at Cambridge Air Solutions that boosted engagement and enabled historically low turnover. Through a combination of people-centric leadership, partnerships and individualized respect for people, they have created one of America's most studied mid-sized manufacturing cultures.
Company
Cambridge Air Solutions helps leaders in manufacturing and warehousing create healthy working environments for their people. The company designs and manufactures commercial and industrial space heating, ventilation and evaporative cooling products. Cambridge has invested heavily in research and development to offer HTHV (high-temperature heating and ventilation) products that significantly save energy and reduce operating costs.
Whether in new construction or existing facility retrofits, Cambridge's designing, manufacturing and testing processes ensure that each HVAC system is certified safe with unsurpassed product quality. Today, over 37,000 system installations have been completed using Cambridge equipment, and 2.5 billion square feet of buildings have been positively affected. Cambridge celebrates its customers' commitment to an improved working environment for people on the factory or warehouse floor. www.cambridgeair.com
Presenters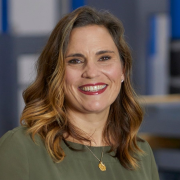 Born and raised in St. Louis, Missouri, Meg Brown has a heart for unlocking and unleashing the potential of those around her. She holds a degree in environmental engineering from Northwestern University and has diverse employment experiences in the manufacturing, environmental, construction, IT and consulting industries.
Brown has spent more than fifteen years cultivating her expertise in building up people and organizations. She crossed paths with Cambridge through her HR experience, where she fell in love with the company's culture. Shortly after helping the company with key initiatives, she formally joined the leadership team to continue strengthening and scaling its people systems.
As vice president of human resources, Brown is responsible for all aspects of Cambridge's employee experience, including talent lifecycle processes, executive, leadership and employee development, organization development and change enablement.