Build an operation that's prepared for today and tomorrow with AME.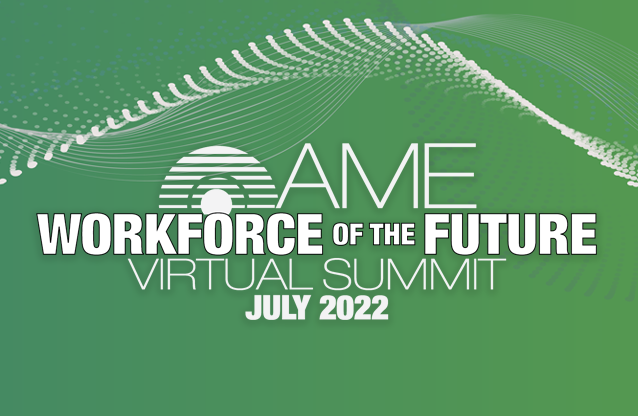 This summit will be presented on three non-consecutive days in July: July 12, 19 and 26. Each day will focus on a different theme: Workforce, technology, and leadership. Thought leaders and lean practitioners will share what they are doing to reimagine their workplace and reskill employees. Participate in keynotes, presentations and tours designed to inspire you in launching initiatives that support creating an engaged workforce to attract and retain talent. From hiring new employees to training existing ones, see how benchmark organizations are creating a multi-generational workforce that's ready to overcome adversity, embrace emerging technologies, and more.

EXPLORE A VARIETY OF TOPICS:
Workplace culture
People-centric leadership in practice
New collar workers
Reverse mentorship
Reimagined workplace
Veterans in the workforce
Diversity, equity and inclusion
Maker spaces
Career and technical education
...and so much more!

WE HEARD YOU
A key component of lean is listening to the voice of the customer. We have heard our members' concerns about hiring and retaining talent—and they're not alone. Manufacturers surveyed in a 2021 study by Deloitte and The Manufacturing Institute reported that finding the right talent was 36 percent harder than it was in 2018, even though the unemployment rate has nearly doubled the available workers. Executives reported they can't fill higher-paying entry-level production positions, let alone find and retain skilled workers for specialized roles. 77 percent of manufacturers expect to have ongoing difficulties attracting and retaining workers.

FREE REGISTRATION FOR AME MEMBERS
This is the third of three planned virtual summits that will be available for free to AME members during 2022 — all leading up to AME's first in-person conference since 2019: AME Dallas 2022. AME members must complete the free summit registration process to receive session login details and other important information.
Not yet an AME member? Join our thriving community of lean, continuous improvement practitioners today to gain access to the AME Workforce of the Future Summit and all of our membership benefits. Non-members may also register for the AME Workforce of the Future Summit for $150.

THANK YOU TO OUR SPONSOR!