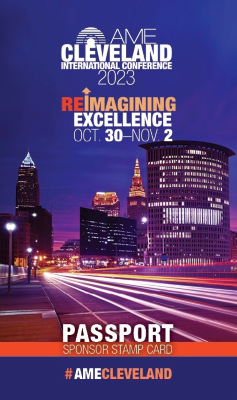 The Passport Game transforms the traditional exhibit hall experience into an exciting and interactive journey. This game offers participants a unique opportunity to connect, learn and build meaningful relationships with exhibitors in a fun and engaging manner. There are also very cool prizes (including a Fender guitar)!
How it works:
• Pick up your Passport Game card at the AME registration desk in the Ballroom Level pre-function area at the Huntington Convention Center.
• Stop by the booth for each exhibitor listed on the passport and strike up a conversation. (We encourage you to visit with other exhibitors along the way!)
• Get your Passport Game card stamped.
• Turn in your completed game piece at the AME booth by the close of the exhibit hall on Wednesday, November 1.
Winners will be announced during the keynote session / lunch and during the closing keynote session on Thursday. Winners do not need to be present.