Highlights
Improvement efforts are often focused around results, non-conformances and efficiency focusing on more of the same. Only, faster is not always the answer to attaining goals. How does a company create an environment where people are engaged to improve and feel empowered from their results? Toyota Kata is a tool that will not only change your workforce, but also evolve them in thinking scientifically.
Overview
In this practitioner presentation, learn how one lean practitioner "secretly" implemented a Kata board IMP Aerostructures that started with two people and became multi-departmental; it not only enabled teams to achieve their challenges, but also empowered them and promoted change. Some of IMP Aerostructures' Kata successes: Reducing the turn-around time of purchase orders from 45 days to one day and improving a multi-assembly build rate from five days to two. It's Kata-mazing!
Company
IMP Aerostructures specializes in manufacturing flight-critical aircraft assemblies and detail components and operates as a one-stop shop, providing everything from program management and engineering services to finishing and assembly processes. IMP Aerospace & Defence is a vertically integrated organization providing comprehensive in-service support services on a diverse selection of airframes and platforms. Its clients include military, government and commercial operators. Learn more impaerostructures.com.
Presenter: Severine Guitton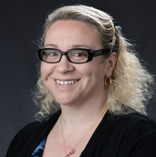 Severine Guitton is the director of production at IMP Aerostructures. She has 20 years of manufacturing experience and has worked for the past eight years with IMP on continuous improvement, driving change and lean initiatives through employee engagement. She holds a bachelor's degree in science in mechanical engineering from the University of Waterloo and is the chair of the Nova Scotia Lean Consortium. Guitton is the recipient of the 2019 CME Nova Scotia Women in Manufacturing award.