Highlights
Learn about disruptive innovation in manufacturing and how to create a culture of collaboration and learning.
Overview
In this practitioner presentation, you'll hear from AGCO's director of digital transformation, global manufacturing, Peggy Gulick, about problem-solving and innovative-value. You'll gain insights into lean, flexible core systems and learn to recognize success and failure. You'll explore disruptive innovation topics such as smart glasses, plant virtualization/VR, robotics (& cobots), driverless vehicles (AGV), inventory optimization, additive manufacturing (3D printing), artificial intelligence (AI) and machine learning. You'll also explore sustaining innovation topics such as exoskeletons, smartwatches, motion/kinetics, sensors and automatic identification (beacons).
Company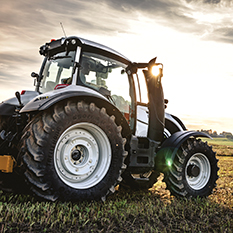 AGCO is a global leader in the design, manufacture and distribution of agricultural solutions and delivers high-tech solutions for farmers feeding the world through its full line of equipment and related services. AGCO products are sold through five core brands, Challenger®, Fendt®, GSI®, Massey Ferguson® and Valtra®, supported by Fuse® smart farming solutions. Founded in 1990 and headquartered in Duluth, Georgia, USA, AGCO had net sales of $9.4 billion in 2018. AGCO's Jackson, Minnesota campus designs and manufactures high horsepower tractors and application equipment. The site produces over $0.5 billion in product annually and employs about 1,000 people. Learn more at agcocorp.com.
Presenter: Peggy Gulick

Peggy Gulick is the director of digital transformation, global manufacturing at AGCO. She has more than 20 years of experience in the consumer products and manufacturing industry. Before AGCO, she spent 16 years advancing comprehensive and sustainable solutions in global enterprise resource planning systems in the sporting consumer goods industry as the director of global business process at Pure Fishing, Inc. In 2015, Gulick chartered the Women in Manufacturing Chapter in Minnesota while holding an active position on AGCO's AGWN (AGCO Global Women's Network).