Topic(s)
Human organizational development
Highlights
Learn about developing pre-apprenticeship programs, from recruitment to retention to employment.
Overview
Youth Builders is a pre-apprenticeship model designed to build the next generation of leaders in digital shipbuilding. The Apprentice School (AS) and New Horizons Educational Centers (NHREC) partnered to pilot this new pre-apprenticeship program with a focus on math literacy, mentoring, trades and workplace learning, personal leadership and success, and coaching. 
Company
Newport News Shipbuilding is the sole designer, builder and refueler of U.S. Navy aircraft carriers and one of two providers of U.S. Navy submarines. With approximately $4 billion in revenues and more than 25,000 employees, it is the largest industrial employer in Virginia and the largest shipbuilding company in the U.S. With expertise in nuclear propulsion, naval design and manufacturing, the company builds the most advanced ships in the world. Founded as the Chesapeake Dry Dock and Construction Co. in 1886, Newport News Shipbuilding has built more than 800 ships, including both naval and commercial ships. Located in Newport News, Va., irs facilities span more than 550 acres, strategically positioned in one of the great harbors of the East Coast. Learn more at nns.huntingtoningalls.com.
Presenter: Latitia D. McCane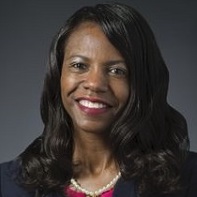 Latitia D. McCane is director of education for The Apprentice School at Newport News Shipbuilding, a division of Huntington Ingalls Industries. She is responsible for overall leadership, vision and strategic direction of craft training, academic delivery, student services, accreditation and recruitment for a student body of 800 in addition to staff and faculty. McCane holds doctoral degrees in urban higher education administration and education administration from Jackson State University and Lacrosse University. She also holds graduate and undergraduate degrees in organic chemistry and chemistry from the University of Alabama and Texas Southern University. McCane is on the board of directors of the Peninsula Chamber of Commerce and New Horizons Foundation Board. She is also a member of Civic Leadership Class of 2019. McCane is married to Howard McCane Jr., and they have two daughters, Maegan and Morgan.