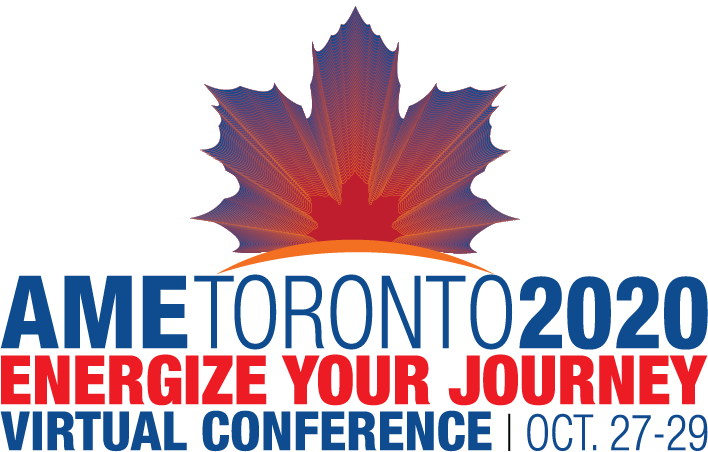 The 36th annual AME International Conference theme is "Energize Your Journey." Whether a conference participant is an expert or beginner, the lean/continuous improvement journey is often in need of new energy and new ideas. Share your best practices, tools and ideas with AME Toronto 2020 participants and help them learn and grow.
Because of the COVID-19 pandemic, all presentations will be done virtually. We encourage thought leaders to submit your content ideas and we will work with you to present your content in virtual format.
Are you interested in presenting at the AME Toronto 2020 virtual conference? Please review the themes below and submit your presentation or workshop idea through the appropriate link.
 
Submit a presentation   Submit a workshop
AME Lean Sensei Key Themes
Business operations
Extended value stream management
Human and organizational development
Management system
Manufacturing operations
Safety and environmental health
 
Theme Descriptions
Business operations:
Support service departments recognize the classic eight wastes and constantly modify their systems to reduce or eliminate them completely. They realize that their function is to support the 'value adders' to the fullest. Service levels are extremely high with inherent problem solving embedded. Internal and external customer demand is met with highly synchronized information flows with a 'quality at the source' mentality. 'Never pass a defect downstream.' Level loading matched work capacity to demand, ensuring 100% on-time delivery of critical information. Standard work and visual performance metrics form the foundation of stable processes with clearly identified value streams, utilizing a well cross-trained workforce. 5S focuses on flow interruption and abnormality identification as opposed to housekeeping. Work area layouts are designed for good communication, eliminating 'silo mentality' and foster cross-functional collaboration.
Extended value stream management:
A strong supply chain exists with supplier partnerships seeking win/win vs. one-way supplier relationships where we win/you lose. Deployment of lean principles throughout the supply chain is prevalent with joint problem solving and improvement teams in place. Pull is built into upstream processes outside the physical walls of the enterprise, reducing the need for safety stock. This relates to supplier development and supplier management. Product development is recognized as fundamental for customer success. Internal design cycle time improvement is a key metric. Collaboration between all the functions from design to delivery is critical. Liaison with customers on external design is paramount to ensuring key milestones are met with minimum delay. Specific processes are in place to pursue breakthrough innovations as opposed to incremental improvement. Solid design tools exist to support the development of products or service with both internal and external customers in mind, such as QFD (quality function deployment), DFMA (design for manufacture and assembly), variety reduction, all through the implementation of integrated product teams.
Human and organizational development:
An organization's most important asset is its people. People add value. People develop processes. People design new product. People use technology and automated equipment. In fact, the whole enterprise is people dependent. Experience tells us that whilst success starts with leadership, execution relies on the people. One valuable lesson we teach our children and grandchildren is that whatever you give out in life, you will get back. Respect people, they will respect you back. Build their self-esteem and capabilities and they will follow your leadership every day. This is the foundation of creating excellent morale within your organization. People will feel valued, and true leaders will promote self-reflection. Having an army of problem solvers will make your days stress free and developing those people to be the best will bring great rewards. Recognition of achievements rounds out a true learning organization that will reap great benefits.
Management system:
Success begins with leadership. Enterprise excellence depends on the decisions made by leadership, managing through a rigorous process of linking meaningful strategic objectives to the daily activities performed by all team members. Rigorous accountability coupled with leader standard work ensures that policies, strategies, and objectives deployed throughout the enterprise are adhered to, thus resulting in customer satisfaction and ultimately, customer success. Improvements every day are encouraged throughout the enterprise, with all employees, contributing to success of the business.
Manufacturing operations:
Value is created throughout the manufacturing process resulting in products or services that deliver high quality, through a 'quality at the source' culture and on-time delivery. A major focus is on waste elimination through easily identified abnormalities that inhibit value creation. Product or service flow is accomplished through a combination of one-piece flow philosophy and a flexible workplace organization. Orders are level loaded and synchronized through the use of visual pull systems with minimum work in process inventory and minimum delay. Materials and information are delivered in a timely way and easily accessible to the people doing the work. Standard work is the foundation of process stability. Utilizing a planned maintenance program further ensures reliability. Management of flow is done through extensive and meaningful visual controls, with accountability to ensure problems are solved with minimum impact. The workforce is extremely flexible and adaptable to variations in customer demand.
Safety and environmental health:
Every meeting starts (or should) with safety. If people are the biggest asset of an organization, then the safety of those people is paramount. Safety comes before quality, flow and cost. Develop your people into safety police. Always use 'near misses' as opportunities for improvement and have your people own your safety program. We are born into a world that is ever changing, including the environment where we live. Climate change is affecting all of us, and we want to leave a legacy for those who follow. Working towards zero waste to landfill is a goal for us to be proud of. Encouragement of employees to car pool, seek alternate transport and reduce energy at home, is a sign of enterprise excellence and responsiveness. Carbon-neutral is our goal, with alternate sources of energy being evaluated. Energy from renewable sources is high on our list of desires.