Thursday, November 20, 2014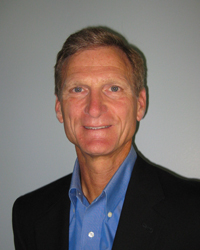 Doman: Lear invested heavily in error-proofing.
Last month, I took my Lean Kaizen class to the Lear Seating Plant in Rochester Hills, Michigan. Twenty five Oakland University undergrads were eager to see lean in action at a best-in-class Just In Time (JIT) plant.  
Bret Badertscher, Lear plant manager, didn't disappoint.
His lecture to the students, which covered the basics of his plant, had a surprise ending. But I will get to that after I lay the groundwork of what the Rochester Hills (RH) Lear Seating Plant does five days a week/three shifts per day.
The RH Lear Seating Plant is a tier 1 supplier of seats to two GM assembly plants — Flint Assembly, which makes more than 700 Chevy and GMC trucks a day, and Orion Car Assembly, which makes over 660 Chevy and Buick cars per day.
It's an incredibly synchronized lean operation that builds to the two GM plants' body shop bar code triggers and ships to their paint shop exit triggers—all Just In Time. Badertscher and his team build, ship and deliver the right sequence of seats within tight three- to six-hour broadcast windows.
And now the surprise. At the end of his lecture, Badertscher modestly mentioned that his plant just won the prestigious General Motors Supplier Quality Excellence Award for the 2013-14 award year.
This is a big deal. The award only goes to top-performing suppliers who exceed a stringent set of quality performance criteria and achieve the cross-functional support of the entire GM organization.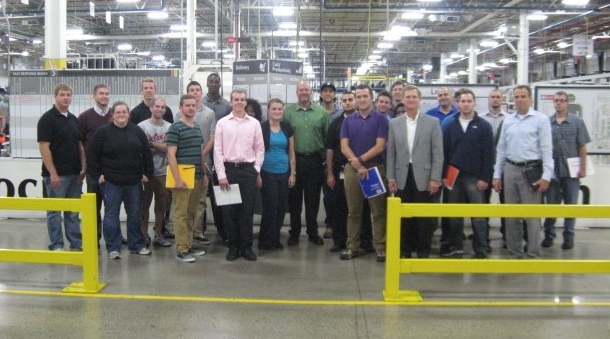 I asked him to tell the students how his team was able to achieve this feat.
Badertscher credited the many lean initiatives that Dan Copes, the plant's continuous improvement manager and the rest of his team have put in place so that everyone is working to eliminate waste.
He first pointed to the extensive 5S efforts at the plant that created a safe and highly visible environment. You can see this when you walk out on the shop floor. Everything is clean and in its place.
As Badertscher told the students, "Standardization is the foundation to all good continuous improvement environments and 5S is a great tool to build that foundation with."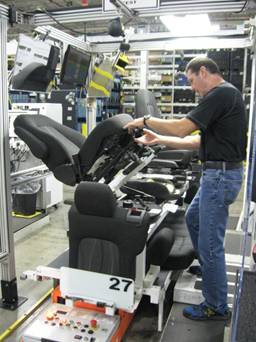 The seat assembly work is highly standardized and the UAW workforce is well trained. Plus, Lear has invested heavily in error proofing (poke-yokes) technology such as bar coding, lasers  and video to make sure each seat (and there are thousands of possible product combinations in today's auto seats) is produced right the first time. And if anything does slip through, the operators pull the ever-present andon cord to stop the line to prevent any defects from proceeding further down the line.
The Lear plant also excels at line balancing and product optimization to spread out the work content and smooth the flow of the line so there aren't those erratic peaks and valleys in work load that drive workers wild.
Finally, the Lear team is pushing hard to increase worker involvement in its quest for continuous improvement. Employee-led Kaizen workshops are constantly taking place, and their results are on display front and center for all employees to see. The employee suggestion is undergoing a rebirth. Worker participation is up eight-fold this year because of new incentives and better communication throughout the plant.
The Rochester Hills plant knows there is competition in the tough auto supply global marketplace. That's what keeps them on their toes and practicing lean at the award-winning level.
Copes wrapped up the presentation by saying, "By having the basic lean foundation in place, it puts us in a position to adapt to changes more quickly, giving us an advantage over the competition."
Thank you for emailing me your best lean practices as well as letting me know about some of the "speed bump" issues you are encountering with your lean transformation. 
Mark S. Doman is a Pawley Professor in Lean Studies at Oakland University in the Human Resource Development Department and a member of the leadership team at the Pawley Lean Institute. Prior to joining Oakland University, he had 25 years of business experience with Ford and AT&T, where he held various executive positions in operations, human resources and legal. He has led several major organizational change initiatives throughout his career that included Lean Workouts, quality circles, TQM, process re-engineering, kaizens and corporate restructuring. He is the author of "A New Lean Paradigm in Higher Education: A Case Study." Quality Assurance in Education, Vol. 19 No. 3, 2011 and "How Lean Ready Are You?" Target, Vol. 28 No. 2, 2012. His email address is doman@oakland.edu.