Wednesday, March 19, 2014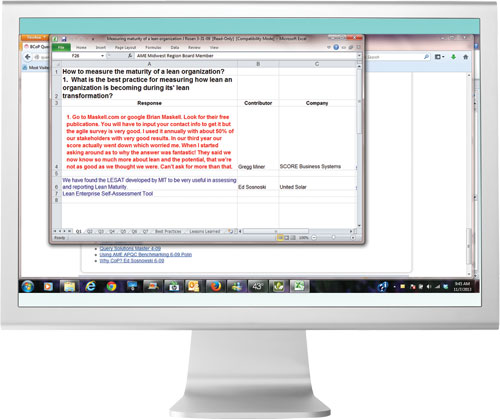 Tool Will Allow Industry Knowledge Sharing at Your Fingertips
In 2008, AME and the premier benchmarking organization, American Productivity and Quality Center (APQC), began a collaboration to form the AME APQC Benchmarking Community of Practice (BCoP). Our intent was to promote fast sharing of best practices, lessons learned and actual benchmarks among a group of trusted friends, so that extended benchmarking studies could be bypassed while still protecting sensitive data. We found that most process performance best practices and benchmarks were not proprietary and could be shared by most companies and organizations. The APQC Benchmarking Code of Conduct was our guide and has been accepted by more than 95 percent of companies' legal advisers. Current Steering Team members are Dr. Paulette DeGard, Boeing; Glenn Marshall, AME, retired from Newport News Shipbuilding; Linda Braksiek, Rockwell Collins; Deanne Davidson, Eaton; Ron Webb, APQC; Christine Kelley, APQC; and Bill Baker, AME, retired from Raytheon.
The BCoP developed an active systematic process that could get responses within hours of posting a query and many responses with a week or two. The BCoP has face-to-face meetings at the AME annual conference as well as the APQC annual Knowledge Management Conference, now in its 18th year. The BCoP also conducts monthly webinars featuring leading companies and subject matter experts discussing "hot topics."
The AME office became the central point of contact to manage the more than 120 queries and query responses. As the BCoP gained large amounts of data, it became increasingly difficult to handle responses by email and static forms, so in 2013, the BCoP began conversion to an online approach to post queries and gather real-time responses more effectively. Jointly funded by AME and APQC, the BCoP Query System has been designed and been through several iterations of beta testing to improve the product and ease of use. Upon release in the near future, members will be able to search the queries based on key words and phrases and get some instant answers to troubling questions. We found this to be very valuable to members who have a management meeting this week and need some fast answers!
By posting an online query, you can initiate the discussion and state your questions to all members and make some close friends whom you never knew before. It's like "Facebook for operations questions," i.e., a community of folks sharing knowledge — the quickest way to learn and grow. Current BCoP membership is made up of 1,480 members from 595 different companies, so you have access to their insights rapidly.
Some examples of the 128 queries in our archives:
Query Topic # Responses
Company Assessments         18
Machine Maintenance           17
Reducing Noise         16
Better Meetings         15
5S in the Office          15
Safety Committee      13
Gemba Meetings        12
Lean Office Design    10
AME will be introducing the system to its membership by the end of March 2014 with APQC introducing it to their members in the near future.
Bill Baker is a member of the AME APQC Benchmarking Community of Practice Steering Team.