Tuesday, September 15, 2015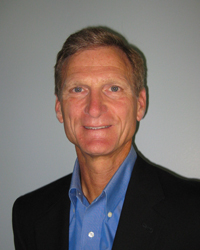 Doman: OU student team kanban recommendations are making a difference.
This summer, I met with the companies that will sponsor my Oakland University student teams in the upcoming fall semester. My meeting with AirBoss Flexible Products CIO Tom Grant, was a special one because I was able to see the company's new Kanban system in action.
Grant was beaming as we approached the Raw Materials Kanban board. (See Figure 1.) We stood there looking at the results of last fall's OU student team's lean workout.
A year ago, AirBoss Flexible Products was having problems with its raw materials receiving and inventory process. The receiving area was disorganized, and inventory was getting lost. More importantly, excess material was being ordered because the ERP system incorrectly was reporting negative amounts of material on hand.
With 10 million pounds of rubber used annually, those problems were significant.
The student team went to the gemba several times and carefully observed the receiving and inventory process. It saw raw materials scattered throughout the warehouse area, a lack of visual aids and no standardized process because each hi-lo driver had a different process for receiving and storing raw materials.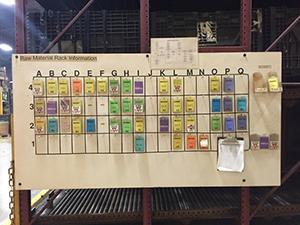 Figure 1.
AirBoss Flexible Products raw materials kanban board
The team dug deeper and discovered that there were no Standard Work Instructions (SWIs) for the drivers to follow and no set locations for storing each kind of raw material. As a result, there was a lot of muda/waste in the receiving and inventory process and that rippled through the manufacturing process causing production delays and higher costs.
As I tell my students, many manufacturing problems have their root causes at the beginning of the value stream — before the first machinist starts machining or the first assembler starts assembling. Look beyond the factory floor. In this case, the raw materials receiving and inventory process was a good place to start.
Using the lean tools and techniques they learned from the course (process mapping, 5S, standard work, visual management, root cause fishbone analysis and kanban cards), the students recommended a series of countermeasures that reduced the muda/waste in the receiving and inventory process by 80 percent and the number of steps by 32 percent.
The countermeasures and implementation plan included the following:
5S and standardize: Create standard "home" locations for all raw materials in the storage racks, take a physical inventory of all current raw materials and move them to the new standard "home" locations.
SWI and train: Create SWIs, trial run and audit process, implement SWI and visual aids, then train all employees who could possibly unload trucks.
Kanban, standardize and train: Create standards for scanning and a kanban card system, trial run and audit process, then train all employees who could possibly unload trucks.
Key metrics: Establish systematic spot checks to make sure the standard process is being followed by all employees and inventory audits to see if the ERP matches what is on the floor.
Less than a year later, the results are significant. The kanban card system is working, employees are following SWIs, ERP numbers match what is on the floor and raw material inventory is down 40 percent.
Why was this lean project so successful? It had many of the fundamentals for success: AirBoss Flexible Products "needed to fix" this inventory problem to compete, top leadership was "leading the change" and the student team was well trained on lean thinking and listened to the frontline employees doing the process. 
About the Author
Doman is a Pawley Professor in Lean Studies at Oakland University in the Human Resource Development Department and a member of the leadership team at the Pawley Lean Institute. Prior to joining Oakland University, he had 25 years of business experience with Ford and AT&T, where he held various executive positions in operations, human resources and legal. He has led several major organizational change initiatives throughout his career that included lean workouts, quality circles, TQM, process re-engineering, kaizens and corporate restructuring. He is the author of "A New Lean Paradigm in Higher Education: A Case Study." Quality Assurance in Education, Vol. 19 No. 3, 2011 and "How Lean Ready Are You?" Target, Vol. 28 No. 2, 2012. His email address is doman@oakland.edu.