Thursday, January 15, 2015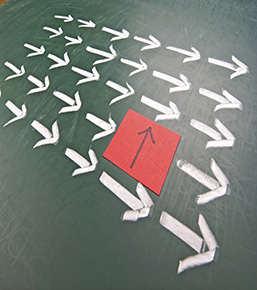 Surveys conducted by John Kotter back in the 1980s suggested that more than 60 percent of all change initiatives fail. Further studies by McKinsey later validated that despite our increasing knowledge and experience, the statistics for failed changes remain intact. This means that the majority of lean initiatives that you may have introduced in the past have failed to deliver the expected or desired outcomes to the extent possible. This isn't to say that there haven't been improvements, but they simply have not been as substantial as originally expected.
Have you achieved the outcomes from your investment in lean that you expected?
As lean is specifically a tool to identify, develop and affect change, I suggest that there are four elements that, if incorporated into your approach to lean initiatives, will reinforce your ability to achieve the outcomes you expect.
1. When is enough too much?
As you read this, I would guess that you have several initiatives already planned for this year, a few of which include business and team goals, plans to support achieving your strategic objectives, new equipment and technology upgrades, employee and leadership development initiatives, and customer attraction and retention initiatives.  And it's only the third week of January.
If you were to list all of the initiatives planned and consider that any initiatives in lean are likely in addition to these plans, what are your chances of success? Our lackluster success in achieving desired outcomes is a result of setting too many priorities that consume the attention of too few people. A business is most effective when there is a clear direction that is understood by everyone, and the fewer your focus areas and initiatives, the easier it is to engage the hearts and minds of those involved.
2. Maximize involvement
Is everyone in the business aware of your initiatives described above? I don't mean that they received an email about them, but that they truly understand why your initiatives are necessary and they connect with how the initiatives will help the business and help them. As a change initiative, lean brings power to people. Hence, it can't be perceived as a management initiative. Maximizing involvement in lean initiatives requires satisfying three pillars:
Involve employees in "why" change is necessary.
Involve employees in identifying "what" needs to be changed.
Involve employees in "how" the changes are produced.
Fewer engagements means increased involvement, and it's through involvement that we ensure we achieve successful and sustained change. 
3. Minimize distractions: If you've reduced the number of change initiatives planned for this year, how will you minimize the number of new initiatives that pop up throughout the year? Having spent time helping clients assess their opportunities for improvement, I recommend developing a change calendar. This doesn't have to be expensive software, it can a simple paper-based calendar posted in an area for all to see, which identifies the specific initiatives planned for the new year. By using a visual paper calendar, it's easy to quickly see the impacts of new initiatives on progress. Inserting a new initiative on the calendar, for example, will act as a means to validate whether the new initiative is more urgent than those planned, and it will force any successive initiatives to be re-planned.  By using and publishing a visible system to plan lean initiatives, you reduce the chances of unplanned surprises.
4. Time heals wounds and solidifies change: They say patience is a virtue, but when it comes to lean, patience is a prerequisite. For changes to solidify and take hold, time is necessary. We simply can't bounce from one lean initiative to the next and expect results to take hold as we intend. Incorporate time in your change calendar to let lean initiatives take hold.
You may be concerned that this methodical approach to change will not yield the necessary improvements required in the time allotted, but I would suggest that you are better off to successfully achieve a few priorities, than to fail in introducing many. 
Shawn Casemore is the president and founder of Casemore and Company, Incorporated, a management consultancy helping organizations globally to improve organizational performance and build financial strength. Learn more at www.casemoreandco.com or follow Casemore on Twitter @ShawnCasemore.