"There are many things one doesn't understand and therefore, we tell them, 'Why don't you just go ahead and take action; try to do something.' You realize how little you know and you face your own failures and redo it again, and at the second trial, you realize another mistake or another thing you didn't like so you can redo it once again. So by constant improvement, or the improvement based upon action, one can rise to the higher level of practice and knowledge."


~ Fujio Cho, Former Toyota Chairman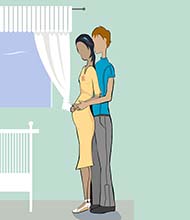 Within the lean community, you often hear the phrase "problems are treasures." This is most often applied to a company's processes, in that problems within processes need not be shied away from but rather, when they surface, can guide process improvement. Does this also apply to problems in our private lives? 
Three summers ago, my wife Sarah and I discovered a devastating family problem. She was 20 weeks pregnant when we learned that the baby she was carrying had half of a heart. If he survived to be delivered, he would need a series of open-heart surgeries eventually culminating in a heart transplant. Whether he would live to see kindergarten was viewed as 50/50. We found ourselves in a state of stunned disbelief, like a surreal but persistent daydream. That disbelief quickly gave way to paralyzing fear as we could only see vast uncertainty before us. Sarah and I were terrified. It was all we could do to get through each day without breaking down at work or neglecting our 1-year-old son Maxwell.
Can a problem like this actually be a treasure? It certainly is not a problem we would choose, but given it happened, the answer is "yes."
Fortunately for us, we uncovered this tragic defect just as I was transitioning at work from Quality Engineering to begin practicing lean. Specifically, my company wanted to experiment with deploying Toyota Kata — one of the most recently developed approaches on how to practice lean developed by Mike Rother — and I had been invited to help.1 The coincidence of my family's struggle to manage our baby's heart defect with my professional struggle to practice lean produced a lot of crosstalk between these efforts. Over time, the effort to help my son has grown increasingly dependent on applying the insights and skills that underlie the improvement kata, the methodology which is the kernel of Toyota Kata. 
I did not apply the improvement and coaching kata in a formal way as I was doing at work.  There was no storyboard posted, and I did not try to teach my wife the terminology or methodology. Perhaps we would have been even more successful had we followed the process more rigorously. But I was guiding the process to follow the essential steps of the improvement kata — identify the challenge, grasp the current situation, identify near-term objectives (target conditions), and experiment our way step by step. 
It was a major departure from how my past instincts would have led me to behave, which was much more reactive and short-term focused. Applying the kata, even informally, helped us to think scientifically and systematically about each step on our journey with a clear focus toward a challenge.
In the fall issue of Target, we will investigate the entire story, the application, and the resulting benefits of practicing kata in a personal situation. New insights and practice routines from the lean world helped my family navigate uncertainty while producing some surprising results. It will be offered as food for thought to leaders who think process improvement is limited to work processes.  There's a much bigger picture.
---
1. Mike Rother, Toyota Kata, Managing People for Improvement, Adaptiveness and Superior Results, New York: McGraw Hill, 2009.
Note from Liker:  Two of the many areas where practice of the Improvement Kata and Coaching Kata seems to be growing these days is in personal life and in health care.  When Tyson Ortiz gave me his article to read, I noticed it intersects both of those areas, and it became my pleasure to support his effort to tell his family's kata story.