Improvement Specialist, NC State University, AME SE Board member
www.ies.ncsu.edu​
AME sponsored the Jay M. Robinson High School (Concord, NC) VEX Robotics Summer Camps in conjunction with the National Week of Making. President Obama proclaimed June 17-23 as the National Week of Making and there were hundreds of events celebrating home-grown ingenuity in recreation centers, libraries, museums, schools, universities, and community spaces across the country throughout the week.
As the president said:  "During National Week of Making, we recommit to sparking the creative confidence of all Americans and to giving them the skills, mentors, and resources they need to harness their passion and tackle some of our planet's greatest challenges."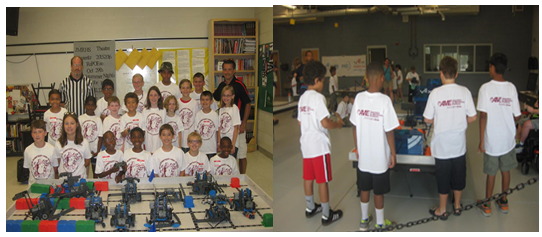 Campers wearing their VEX Robotics Camp T-shirts sponsored by AME
The VEX Robotics Summer Camp events are designed to enhance student critical thinking, problem solving skills, collaboration, marketing skills, communication skills, through the platform of VEX Robotics.
"I'm convinced the VEX Robotics competitive platform offers so many of the skills students will need to be successful in the manufacturing and technology focused marketplace.  I started this camp initially as a fundraising effort for our high school competitive teams but have extended the opportunity to families throughout the region to form competitive teams and engage in this powerful platform.  When sharing this program with others, I often refer to competitive VEX as the "Friday night under the lights for the non-athletes".  So many wonderful skills...problem solving, critical thinking, marketing, public speaking and teamwork, learned all under the umbrella of a competitive event. It doesn't get any better than that!" said Robinson teacher and camp director David Parisi.
Parents shared their feedback as well:
"The 2015 VEX Robotics camp at JM Robinson High School was a great stepping stone into a yearlong program coordinated by David Parisi.  I was immediately impressed by this exciting opportunity for youth in our community.  Our son became a member of the first elementary age robotics team for our county.  Over the past year our son has found his passion and has developed important skills that will aid him now and in the future.  In addition to advancing his knowledge of design-build, programming and technical aspects of robotics, our son is learning important life skills.  Creativity, problem-solving, cooperation and self-advocacy are just some of the areas that are developing in participating students.  This summer we returned for two more camps where our son got to practice IQ and be introduced to EDR.  As a parent with a background in education I am confident that this platform is ideal in helping shape students that will be able to make positive contributions to field of engineering and beyond."
"My 8 year old daughter was skeptical about the camp before she started.  She was worried it was "boy stuff" or wouldn't be fun. After the first day, she was so excited she already asked about camp for next year!"
"I appreciate the opportunity my daughter had to participate in the VEX/EDR summer camp at Jay M Robinson High School.  It gave us the chance to discuss career pathways and how to approach finding a job that is enjoyable and matches her skill set.  Learning how to build and maneuver a robot can increase her opportunities and career advancement.  Women are a small minority of workers in the growing advanced manufacturing field and we need to look for ways to educate parents as well as students on the range of jobs available within the industry."
"Our two children attended the VEX Summer Camp at JMRHS and couldn't wait to go back everyday!  They had so much fun while learning necessary real world skills such as problem solving, critical thinking, competition and collaboration! Thank you JMRHS!!!"
"As parents, it is thrilling to see your child excited about the future of technology. It is especially great when that already happens at the elementary school level! Our 9-year son enthusiastically came home everyday from the 2016 Jay M. Robinson VEX Robotics Camp and shared about all the "awesome" things he was able to build and program at the camp. He loved the interactive and hands-on learning opportunities that were part of the camp experience."
In addition to support like this, the AME Adopt-a-School initiative is addressing the growing "Skills Gap". The burning platform is that eighty-two percent of manufacturing executives agree the nation is facing a shortage of skilled career-ready citizens that has been reported by Deloitte and The Manufacturing Institute.