FORTUNE magazine "Pioneering Woman in Mfg"
A Mill Girl at Blue Heron Journal, https://sites.google.com/site/blueheronjournal/
Do we really need all that cardboard?
Packaging engineers know there is a better way…
It's not just environmental issues that are causing manufacturers to pay more attention to scrap reduction.  In automotive, it's the economy, with lower interest rates driving higher sales volumes for automotive manufacturers and their suppliers.  Both OEMs and their supplier partners are looking for new savings opportunities, especially in packaging and logistics operations.  They need to cut waste.
The deeper manufacturers take cost savings ideas into the supply base, the more   opportunities they find, especially in the areas of packaging and logistics.  That is exactly what Randy Hill, former Nissan packaging engineer, now with Magneti Marelli, aims to do with their supply base. This Magneti Marelli plant is an automotive Tier-1 lighting producer located in Pulaski, Tennessee; the company supplies OEMs like Mercedes, Chrysler, Fiat, Honda, General Motors and Volkswagen with finished automotive lighting products assembled from dozens of inbound supplier shipments each day.
From leading kaizen events, to talking with teams and diagramming flows, Hill sees multiple savings opportunities in just one continuous improvement project.  His current objective, to help Magneti Marelli and its suppliers eliminate all expendable packaging by substituting returnables in their stead, is proving to have multiple positive results – from sheer material (and space) cost savings, to less trucking and savings on fuel, as well as reduced parts damage.  Back at Nissan, successful packaging improvements saved "over $20M alone, "says Hill, "and we'll use those techniques and more, working with our supply base."
Organizing process flows with Electronic Kanban
Another of Hill's current priorities is to implement an electronic kanban system that will track all material flows, maintain inventory data, and run to a pure pull system.  Hill expects that electronic kanban will help operations get better control of packaging; projected savings from the elimination of expendable packaging will run into the hundreds of thousands.   "We spend over $100,000 per month just on cardboard, not counting pallets and foam materials. I'm looking to turn a $1.2M+ a year cost into savings. Also I'm looking to install a regrind system to save an additional $300k per month because right now we purchase over 1,000,000 pounds a month of plastic resins and piece parts. With a regrind system we know we can save over $300k a month just by recycling most of our scrap parts.  We scrap out about $2.5 million per month in parts because of incorrect or missing item numbers, or damage caused by transport with no packaging of parts and assemblies moving from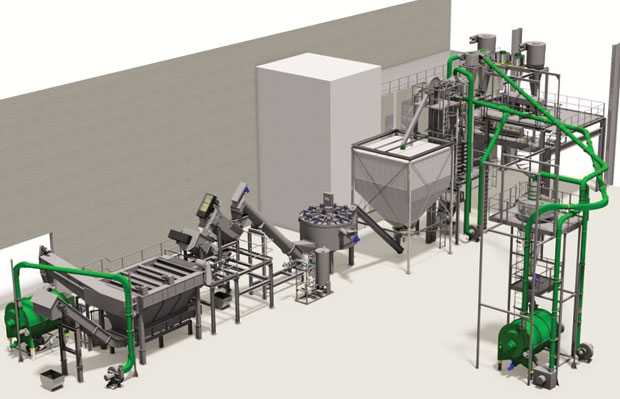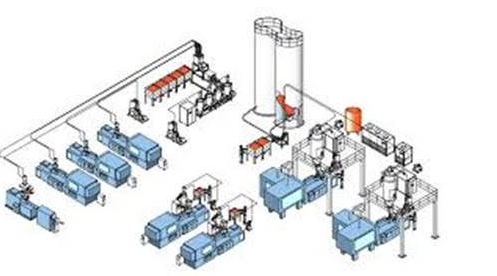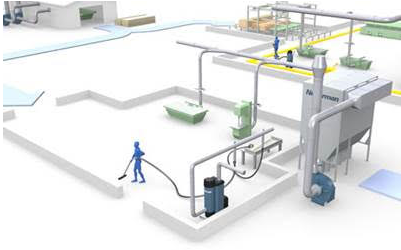 These 3 pictures are of a Regrind system.  You can even vacuum up  the small plastic pieces and send them to the separator to separate those that can be reused and the scrap sent to the recycler.
Finding the root cause
Where do these nightmare wastes come from?  Hill guesses that while some of them may be sheer accidents, such as unprotected transport, many are a product of a flawed Standard Work System (SWS).   "I have been going through all SWI's (standard work instructions) and what we are seeing is that most of the problem is waste and incorrect use of packaging."  By reviewing and rewriting SWI's Hill expects to reduce waste while he works with Magneti Marelli suppliers to evaluate their own packaging and shipping methods.
Going deeper into the supply base pays off – "I have found that 70% of our suppliers use no returnables, only cardboard expendables and four-way access heat-treated wooden pallets.  Pallets alone cost $8.25 to $13.50 each.  We started with three of our suppliers that ship us more than 50% of all suppliers in our network:  
Proper Polymers - Proper supplies us with Camaro, Honda, RU (Chrysler) components;
TASUS - TASUS supplies us with Housings for all of our programs, Chrysler, Honda, RU, Mercedes, Camaro, Volt and KL (Jeep).
Baxter - Baxter supplies us with Honda side covers and Housings as well. With them we are implementing all returnables, and eliminating all expendables and wooden pallets. 
The process will take about nine to 18 months depending on the material delivery (totes, plastic pallets and tops) times.  These items sometimes have 6 – 8 week lead times. After receiving the returnable materials we conduct internal trials and work out all kinks before we green light switching from expendable to returnables, but the estimated savings just in cardboard use per year is over $350k.   When all is said and done, by eliminating foam bags, cornerboards, cardboard and all wooden pallets, we'll have an estimated savings of over $750k per year."
Costly packaging not just a problem for the US
Like many automotive suppliers, Magneti Marelli maintains operations in Mexico, and the challenge to intelligently design and ship product to US customers is equally important. 
Team members alternate their time between the US and Mexico because not only do they want to eliminate packaging waste and expendables, they want to institute better shipping and logistics connections among the plants.   Hill feels that they are just scratching the surface as he notes that some plants in Mexico unfortunately still only ship in cardboard, because it is cheap and there is no lead time to acquire it.
All in all, against a goal of $750k savings per year, Hill estimates that half way through 2016, the team has hit over $312k cost down.   Accumulating consistent savings requires the team to spend much time with suppliers, observing and changing many detailed operations.  "We are using the same methods," says Hill, "that we used at Nissan – contact with suppliers, finding out how they are shipping to the plant.  For Magnetti suppliers still using cardboard expendables, we designed returnable packaging, for instance, now used for automotive lighting housing.
The team designed returnable packaging for lighting housing and lighting assemblies. "We have a new program concept to develop a returnable, stackable housing rack that can be used at our suppliers. This rack can be put on the manufacturing line at the supplier plant.  They can then slip the finished product right onto the rack instead of putting it on an in-house rack, which would then have to be repackaged later in expendables, then shipped to us where we would repackage the housings onto our own in- house rack. The returnable rack is simple – it will eliminate all repack, at both locations, and it will only be touched once."
All of these moves play a vital role in quality, because the fewer number of times a part is touched, the higher the quality percentages. The lighting assembly housings for final product going to customers are designed by the Magneti Marelli team, okayed by the customer as to design strength and integrity, and they specifically replace cardboard.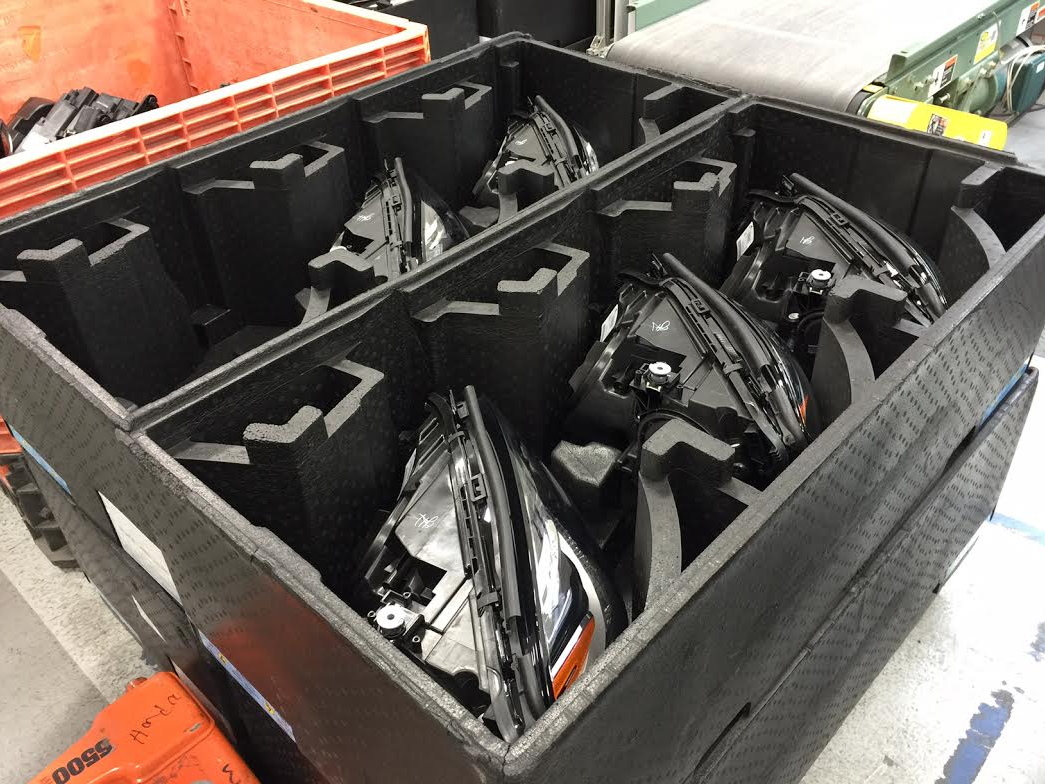 The team had noted that previously housings were packed 48 x 45 in a pallet, which was then shipped to the plant where six people unpacked and repacked the product for the assembly line.  That looked wasteful, so the team redesigned the system using a rack. The housings are positioned on the rack, which is then loaded onto a truck – from there the rack goes directly to the assembly line, thereby eliminating unpacking, sorting, cardboard, possible new damages, and process time.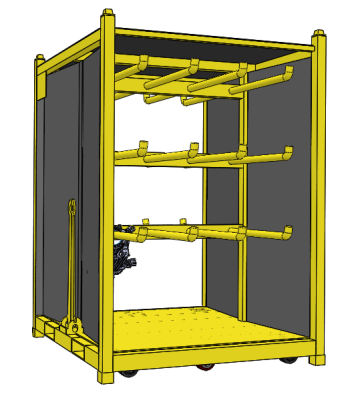 This is a versatile rack that holds the housings for all programs, the bars are coated with a Class A surface that Automotive customers require to reduce scratching the housings. The bars are adjustable to fit all housing big or small.
Plastic!
Once inside the plant, observers will often find opportunities for cost savings apart from shipping expendables.  Polyspun bags, for example, had become essential to protecting metalized product parts as they moved through the plant.  But at $0.32 per piece, these one-time use plastic bags became a drag on the environment as well as the income statement.  Hill's team decided to tackle the bag problem in a very scientific way.  The team ran an experiment to test reuse of the polyspun bags, and what they discovered proved that the bags could actually be reused six to eight times, for a savings of $217,000 – $240,000 per year.  "But at Nissan," recalls Hill, "our total savings alone was over $3m."
The kaizen team approach works well with suppliers because Magnetti continuous improvement projects yield changes that inevitably benefit other customers as well.  "We had one supplier," says Hill, "M-TEK of Manchester, Tennessee, that ships us door panels and headliners."  The team conducted a twelve-week kaizen project to dig deeper into the supply chain.  They looked at their supplier's suppliers, and what they discovered was shocking!  One supplier was using warehouses and marking up product between 15-24 percent for parts that were simply unloaded from a truck directly onto the supplier's warehouse floor where it would sit until a Nissan truck came to pick it up. The parts were not even touched by a forklift!  When the team took this kaizen project to its twelve biggest suppliers, Nissan realized a $1.7M savings per year."  These cost savings were achieved by having the M-TEK supply base direct ship their product right into the Nissan plant, cutting out the supplier mark- up.
Here's another Nissan example.  Roki, in Ohio, a supplier of plastic engine covers all stamped with the Nissan/ Infinity name on top, was shipping in 24 x 24 x 15 totes, 5 or 6 covers per box.  After observation and study, the team decided to bulk pack 200 to 235 covers in a single 48 x 45 x 34 knockdown bulk pack.  This change eliminated excess packaging and movement and saved the company another $475k per year.
One has to ask, why, with everything we know about process flows and target costing, not to mention environmental regulations, were these packaging and logistics methods so badly designed that they inevitably created waste and excess costs?  With millions of US dollars going to packaging, the money adds up as products are exposed to the potential for damage throughout their many moves.  Hill believes we got to this costly position because many facilities had no packaging or logistics engineers.  Instead, what he saw was "ship it and forget it."  But now, "with people going to packaging logistics or engineering school, we've learned to dig in deeper.  We'll typically study how many trips parts take, and how they move through a warehouse.  When you put all the factors together to produce cost, the totals are surprising.  And what emerges is better buying power with improved savings."  Let's face it, what new car owner wants to think he paid for pounds of cardboard and junked plastic as part of his sticker price?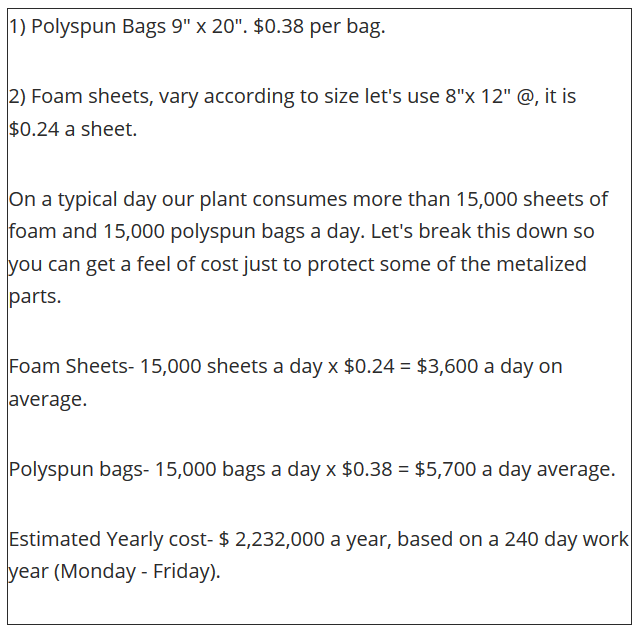 When I came on board this is what my plant was consuming every day. One of the first items I tackled was this cost. Putting the foam into landfills did not make us an environmentally friendly plant. After a few weeks working with other engineers from the quality, process and environmental department we analyzed how good would a bag or foam sheet be if used more than once?
We started running trials on parts and putting them through the entire process using the same foam bag or sheet and we found that these materials can be used more than once. After about 5 weeks of analyzing data we came to an agreement that the bags and foam sheets can be used up to 6 times before discarding them.