Monday, September 10, 2018
The company's integrated IT system delivers big company performance at a small company price
When Grand Rapids, Michigan's Firstronic won the Industry WeekBest Plants, a PACE award, and Circuit Assembly Service Excellence Award, they were well on their way to hosting an integrated IT system that supported great product variety with very demanding quality and tracking requirements—big company performance at a small company price. For CEO John Sammut, the IT challenge became how to effectively apply good IT to manage more of Firstronic's production processes, without blowing the budget or losing customers in the transformation.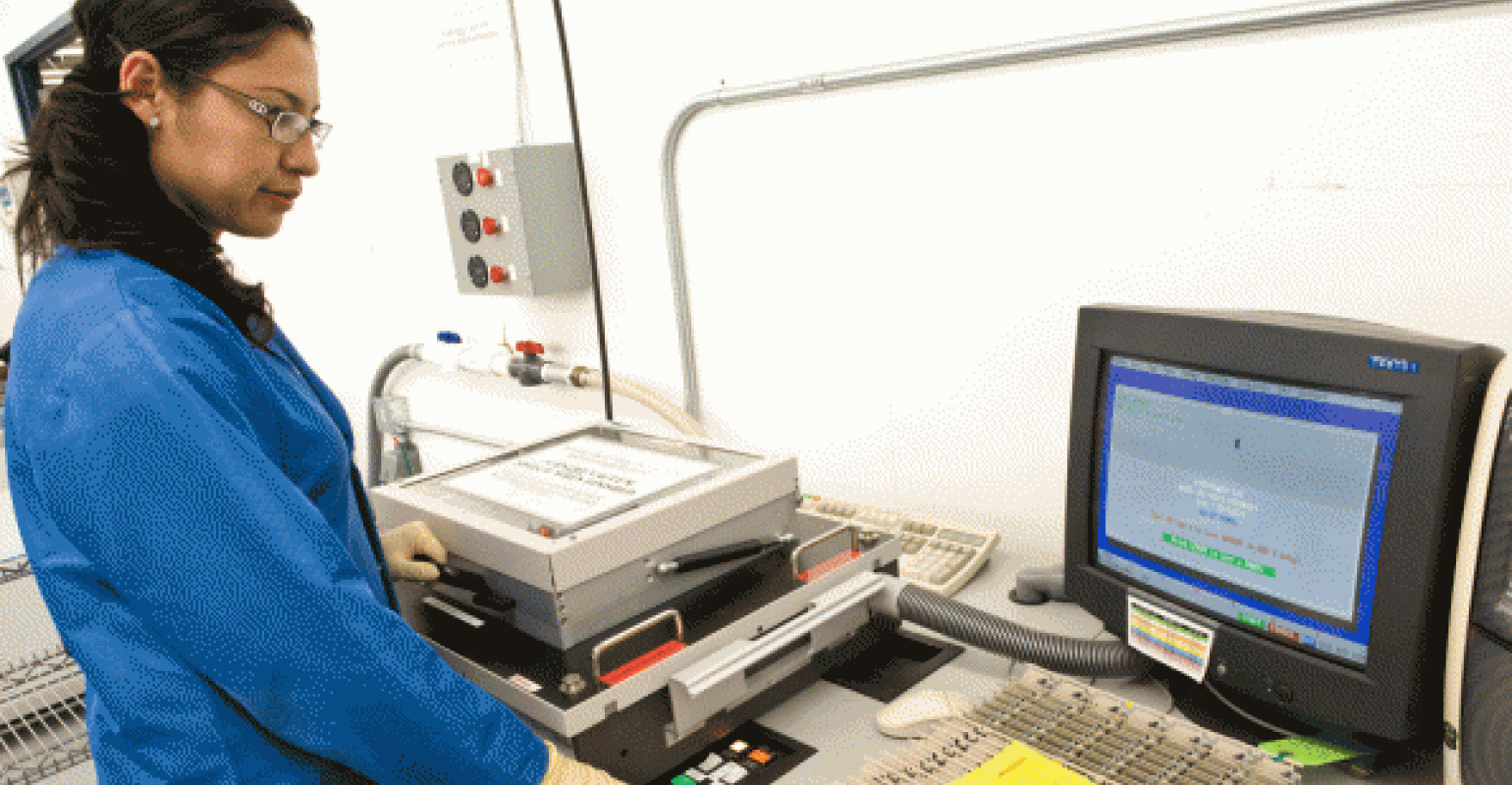 A Firstronic employee conducts an in-circuit test of electronic assemblies.
---
For this US-based electronics producer, although the IT possibilities seemed endless, once the team started to narrow down choices, from in-house, cloud-based, licenses, adds, no-adds, to mobile apps, the direction became clearer. What the company needed had to work in a small company environment, and it had to track the basics, preferably real-time—customer orders, production and inventories, supplier management and quality.
Related Articles
This is the first of a series of articles about manufacturers' use of the latest IT systems. Please see the other articles in the series:
Management wanted to change the system's job description, as well as those of the shop floor workers. Ed Weinheimer commented on those days, "Data doesn't pay the bills, but it keeps the factory running –it's the product that we are shipping that makes the money."
Of the four possible solutions—Oracle, SAP, Plex Systems and Infor—Plex seemed the best choice, the right price and no requirement for local installation or maintenance.
Most important was supporting the operators, saving them time by integrating IT software into the manufacturing process. Firstronic placed touch screens on the shop floor—70 PLEX workstations running in English between Grand Rapids, Michigan, and their Juarez, Mexico, plants (50 in Michigan and 20 in Juarez).
"What that workstation does is allow Firstronic personnel to leverage the power of the software in the manufacturing momentfor the end user on the plant floor, said Dave Morfas, Plex director of Product Marketing. "Historically, there have been lots of production software tools that are actually disconnected from the ERP system. Firstronic's Plex system takes the opposite approach. Not only are people inputting real-time into the system, but the data is being immediately shared across the entire system—in the plant and with suppliers through the Cloud." 
Updates of completions, quality performance and incoming materials are all distributed instantaneously to all users through the web. When manufacturing people see their data appearing immediately before them, it's easier to catch and correct any errors, outliers or anomalies, a productive approach to realizing "time savings for operators and the company," Morfas said.
In addition, giving users and managers visibility into what happens between receipt of raw materials and components and shipments, reduces costs of scrap, inventory, obsolescence or variance to plan data. Firstronic's new IT strategy is real-time—no number of white boards and expeditors can do that
As for accuracy, Morfas cites another user experience in which a plant reduced inventory variance from $155,000 to a known $647. 
Updates in deep background
"Every [Plex} customer gets updated software all the time, 365 days a year, 24/7," Morfas said. "Plex uses an unlimited subscription model—no licenses," because the objective is not to sell licenses, but speedy data integration and operator access. 
"The majority of our customers have touch screens," Morfas adds. "In fact some people are using $75 Kindles to access the system. It's all browser-based—whether inputting from the garage or the plant floor, there is no special installation." Some users are thinking longer-term to wearables, voice activation and smart glasses, all advanced technologies integrated through the power of the Cloud.
Single point solutions aren't enough
 "We started to see best-of-breed single-point solutions that did one thing really well, but not the whole thing," Morfas said. "Companies would cobble together 30 different products from 15 different vendors and would have to deal with hundreds of upgrades." 
He added: "The old way was to build from the accounting system down, and we think it's got to come from the other direction. We want to minimize bolt-on sidecars that may have the appearanceof integration, but are not truly integrated. Although you may hear chatter in the industry about needing best-in-breed systems, what manufacturing people really prefer is a strong integrated solution to minimize headaches." 
And nobody wants to operate a full-service IT shop in addition to designing and making product.
Data Analytics
There's one more reason for manufacturing to take a new, integrated approach to IT: data analytics. Analytics require smart users, some of whom might be freed up from IT maintenance drudgery if ERP runs in the Cloud. For some end-users, the Cloud offers hope to leapfrog from un-integrated production systems to elegant, timely, data management and analytics. "Pivot your best technical resources," Morfas advises, "Let people think and work more strategically."
In addition to being paperless, Firstronic's new system had to be capable of handling growth with increased product and process complexity. "We knew whatever system we went with had to be scalable," said Sandy Kolp, director of Quality. The plan was to move away from paper and whiteboards to touchscreens, and to make assembly instructions, for example, very clear and intuitive. 
Kolp stressed: "Essentially, the new system was intended to move responsibility to the floor, back to where it belonged—with the operators."
Preventative Maintenance
The new system offered Firstronic personnel help in the area of preventative maintenance. The old system was not very user-friendly. It did allow Firstronic to track maintenance on its equipment and facilities. But there were "issues," especially in the era of tooling. 
Tony Maiani, Firstronic's IT system administrator, believes that small and medium-sized U.S. manufacturers need better tools. "When I show my colleagues in quality my smart phone, they are amazed, because I can show them everything via Smartplex. I can see WIP and production status, as well as quality stats." Suppliers have access through supplier portals to key data, including alternative components.
Scalability
Maiani believes that the beauty of this system for small and medium-sized manufacturers is scalability based not on headcount, but revenue. "Think scalability to grow. It's not just about ERP," he said. "We got into managed IT services because we learned it's more effective to outsource server management, and use managed IT services." 
For Firstronic's head of quality, Anthony Bellitto, another significant benefit is in having a team monitoring the system 24/7, minimizing the potential downtime as well as data back-up. "IT security is so important. As the company and technical demands grow, manufacturing needs to know that the team is monitoring the entire IT operation," he says. "This is scary for people, not just because outside entities have fingers on your most valuable data. Your financials, etc., are in the Cloud. It's scary, and one of the big reasons is that people are concerned about vulnerability, but here we look at managed IT services and the amount of technical ability available. There are two sides to the decision—yes, you do have to be very careful about security, but also consider time and money."
Named a "Pioneering Woman in Manufacturing" by Fortune magazine, Patricia E. Moody (tricia@patriciaemoody.com) is a manufacturing management consultant and author.