According to the U.S. Bureau of Labor Statistics, there are currently more job openings in the U.S. economy than there are people looking for work. The shortage of skilled workers overtakes the economy as the greatest hurdle manufacturers anticipate facing in the years ahead, according to the ASQ 2018 Manufacturing Outlook Survey.
While some of these new jobs require a college education, most are "middle skill" jobs requiring a high school diploma, a foundation of math and science along with some additional training offered by an apprenticeship/certification program. The good news is individuals who graduate from these programs with the needed technical and leadership skills for success are the next generation of makers and champions.

As reported by the National Association of Manufacturers and the Manufacturing Institute, only three in 10 parents would consider guiding their child toward a career in manufacturing. Manufacturers address the perception that manufacturing is more than dirty, low-paying jobs each year on Manufacturing Day by showcasing manufacturing careers and work opportunities. These manufacturers also partner with vocational training programs and high schools, which offer more internship and apprentice opportunities.
Next Generation of Champions
We have entered a time in our country's history when the return to manufacturing excellence has never been more important. In order to bring our manufacturing back from overseas, we need more skilled labor. The time is now. We need to challenge everyone's knowledge about manufacturing and the significant opportunities for young people to excel in these careers. 
There is considerable data that supports the idea that a college degree is not the only path for success in this country. In addition, the cost for a four-year degree and the amount of student debt continues to increase and affect college graduates. 
We need to change our culture. We need to educate the general public about the future of and need for manufacturing in our country. We need to educate parents that there is a tidal wave of baby boomers about to leave the manufacturing sector and there is great opportunity there for their young people to fill those positions.
We need to convince parents that not all of their children are best suited for college. Kids have different learning styles and might excel better in a different, more hands-on learning environment. We need to change parents' perceptions and outdated viewpoints in order for us to solve these problems simultaneously.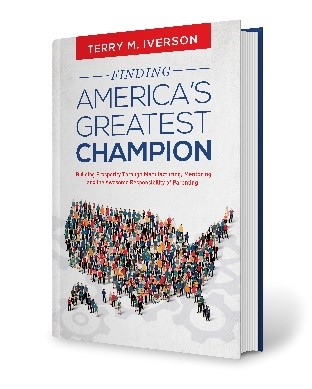 Help find these new champions and put them to work in making "Made in America" and the their "American Dream" a reality! These topics and more are covered in Terry's book "Finding America's Greatest Champion."

Finding Solutions That Work!
Learn how these challenges are being addressed at the Goodyear Innovation Center Manufacturing (ICM), Toyota Motor Manufacturing of Texas, Newport News Shipbuilding and other leading learning organizations who are closing the workforce skills gap and finding the next generation of Champions. Tour the world-class training facilities at Alamo Academies and St. Philip's College, where students are trained to pursue high-demand careers.
Join others along with the Association for Manufacturing Excellence (AME) and the San Antonio Manufactures Association (SAMA) at a summit May 9-10, 2019, in San Antonio. For more information go to http://www.ame.org/event/san-antonio-2019-summit.
Glenn Marshall Newport News Shipbuilding (retired), Association for Manufacturing Excellence (AME) Management Team and Terry M. Iverson is the President/CEO Iverson & Company, a precision machine tool rebuilder and distributor.