Tuesday, February 21, 2017
By Kim Humphrey, AME Southest Region Director and Newport News Shipbuilding, Strategic Sourcing and Supplier Development Manager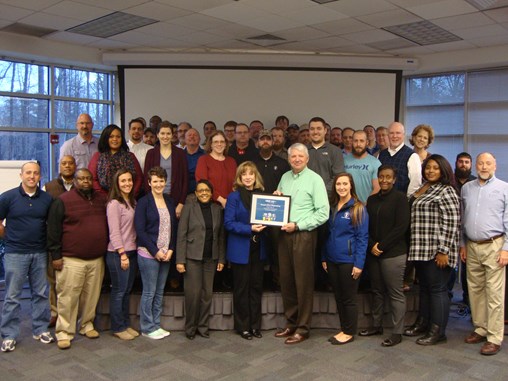 TMG President and AME Southeast Region Director, presents Kim
Humphrey, NNS Strategic Sourcing and Supplier Development Manager
and AME Director Southeast Region, a recognition plaque for sponsoring
"LEAN Champions" training.
The Association for Manufacturing Excellence (AME) Southeastern Region and Newport News Shipbuilding (NNS)  hosted a training event at the Virginia Peninsula Workforce Development Center January 30-31 entitled "LEAN Champions".  Forty people attended, including NNS supply chain procurement and manufacturing personnel. TMG Inc. led this training focused on how to build a dream team of Heartbeat Leaders to implement best practices and create a lean organization. Joe Barto, TMG President,  stressed that the "team and organization wins when every teammate is engaged and are doing the right things right".
Rob Hogan, NNS Vice President Manufacturing and Supply Chain Management, stated "I greatly appreciate the work of the AME and the opportunity to sponsor lean training events on behalf of NNS. While sponsorship is a level of commitment to lean, real commitment comes from having employees participate in and utilize the training. Leaders from many levels of my organization participated in the recent "LEAN Champions" training in Newport News. I'm excited to hear and see their ideas, the deployment lean principles and practices, and helping them along their never ending lean journey."
It will be exciting to see how this training will be used to continue to build Heartbeat Leaders aligning with the NNS culture of continuous improvement!