Thursday, January 16, 2014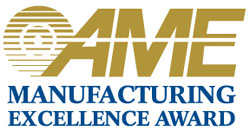 Four distinguished companies received the 2013 AME Manufacturing Excellence Award during the association's annual conference in Toronto:
Bombardier Aerospace in Toronto, ON
IEC in Albuquerque, NM
MillerCoors in Eden, NC
STIHL Inc. in Virginia Beach, VA
A general description of the awards and past recipients is available here.
If you're ready to apply for the award, or perhaps you're considering using the application criteria to create a roadmap for your improvement activities, related information is available online, as well. Applicants will be asked to develop an achievement report focusing on accomplishments during the past three to five years. Check the Achievement Report (application) Guidelines here. You'll find Intent to Apply information here.
An achievement report should explain the strategy and steps taken at the plant to achieve a culture of manufacturing and business excellence leading to increased global competitiveness. A plant profile will be part of the application material. Front office and manufacturing processes and efforts to achieve business excellence should be described. Major categories for the awards criteria include the policy deployment process, safety and environmental health, manufacturing and business operations, extended value stream management and plant results.
Qualified applicants will receive a site visit. Achievement reports must be received at the AME office by March 14. Please check our guidelines for the 2014 award application process.
Congratulations to the 2013 AME Manufacturing Award recipients, and welcome to all applicants for the 2014 awards!