AME | January 30, 2018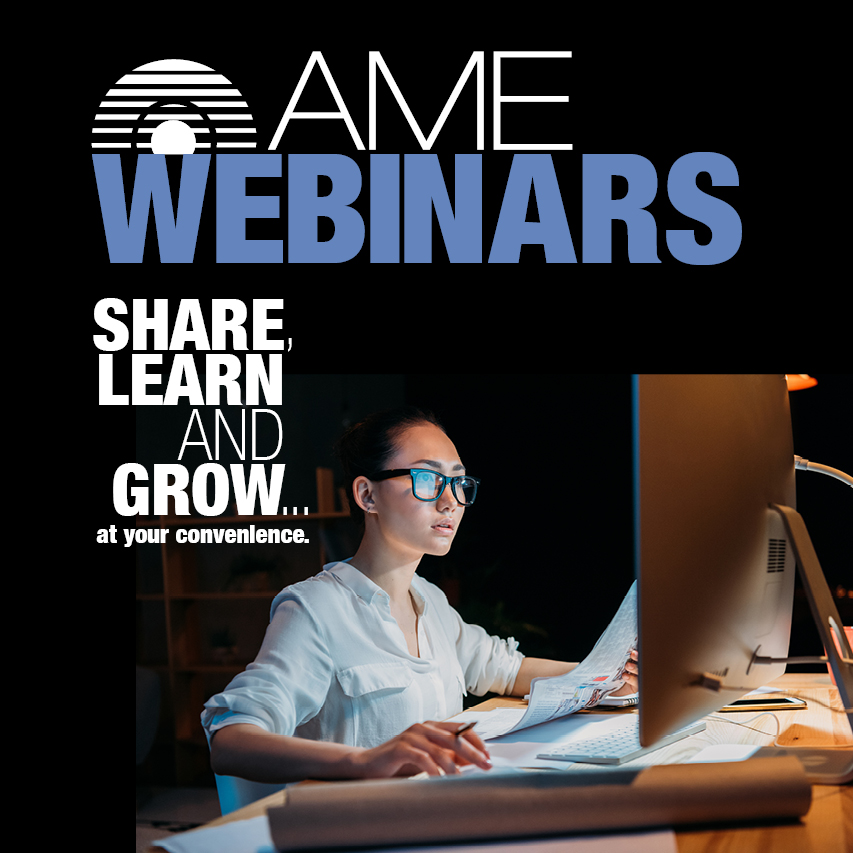 In an effort to provide the lean community (comprised of both AME members and non-members) with opportunities to further their lean journey, AME is announcing its spring 2018 webinar line-up. Taking place on Thursday afternoons at 1 pm ET starting on February 15th, these webinars will focus on a wide range of topics from employee engagement to people-centric leadership, gemba walks and more.  
Last year, the AME management team made the decision to increase the frequency of webinars to meet the demand of the continuous improvement community and provide more low-cost, convenient opportunities to share, learn and grow.
"As we continue to enhance, grow and integrate AME offerings to help individuals and organizations learn, share and grow, we have discovered that increased access to timely and informative webinars is an effective medium. AME is increasing our webinar frequency so we can more frequently provide insight into lean transformations as a key component of our efforts to enlighten, instruct and demonstrate how practitioners are creating value," said Larry Anderson, AME VP of programming.
This spring's line-up kicks off right where #AMEBoston keynote speaker Paul Akers left off. In his AME Boston 2017 keynote, Akers provided examples of how incremental changes can lead to improvements in efficiency. The 2018 AME webinar schedule kicks off on February 15 with 2 Second Lean – engaging every employee every day led by Marc Braun, president of Cambridge Engineering, Inc. This webinar will examine the value of implementing a 2 Second Lean management system through the experience of Cambridge Engineering, a manufacturer of heating and ventilation systems. 
Next up on February 22nd is The common sense of people-centric leadership lead by Allan Coletta, senior director of engineering and facilities for Siemens Healthineers' Reagent Manufacturing facility in Deleware. The principles of people-centric leadership are part of AME's vision and an important ingredient in implementing a lean culture. This webinar will focus on employee disengagement and why developing managers and supervisors who are skilled at leading people makes sense. This webinar will help you if you're interested in developing a people-centric culture but don't know where to start.
Our March 1 webinar is Turn unpredictability into opportunity with mixed model flow and explores, step-by-step, how to apply advanced lean techniques to design mixed model value streams that produce products at the pull of the customer. It will be led by found of the Institute for Operational Excellence Kevin J. Duggan, a recognized expert in operational excellence and who has appeared on CNN and the Fox Business Network.
Gain insights on how to improve the effectiveness of your gemba walks on our webinar on March 8, How to do a more effective gemba walk. Led by AME's Awards and Certification leader Michael Bremer, author of "How to Do a Gemba Walk," which was recently named as a Shingo Research Award. This webinar will provide a "how to" for leaders on how to conduct a gemba walk with a higher degree of humility and effectiveness.
How do you reduce energy usage and increase energy efficiency in your operation? Find out at our March 15 webinar, Lean and energy (the ninth waste) which will be led by David Hess, the lead project manager at the New Hampshire MEP. Learn how reducing energy consumption and reducing environmental waste can have positive benefits such as an improvement in safety and a reduction of greenhouse gas emissions.
Learn what it really takes to create a culture of continuous improvement at our March 22nd webinar, Putting the continuous in continuous improvement. Led by two-time Shingo Prize recipient Drew Locher, this webinar will review two routines, or kata: the improvement kata for rapid PDCA cycles and the coaching kata for developing CI skills and mindsets in others.
Our 2nd quarter (calendar year 1st quarter, fiscal year 2nd quarter) webinar program concludes with Lean Bronze certification process. A complimentary webinar, participants will be able to understand the important steps required to become Lean Bronze certified, including an overview of key points and portfolio development. Led by Hank Czarnecki, who is Lean Bronze certified and director of Auburn University's Technical Assistance Center and an AME Southeast region board member.
Take advantage of the opportunity to learn at your own convenience with AME webinars. And check out the AME webinar page for more upcoming webinars and registration information.